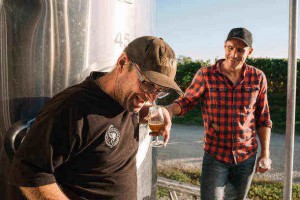 The Australian International Beer Awards (AIBA) sent the Moa team flying high, after receiving medals for 14 of its 16 entrants into the Melbourne-based prestigious awards ceremony, including a gold medal for its specialty malt driven Moa Smoked Helles.
Conducted by the Royal Agricultural Society of Victoria (RASV), the AIBA is the largest annual competition of its kind globally, where both draught and packaged beer are accepted for judging. This year saw a record 1793 beers from 326 breweries across 36 countries entered.
The medal haul for Moa Brewing Co. included one gold, four silvers and nine bronze medals spread across a range of categories.
Within this medal count was the Moa Original Lager (Silver) and Session Pale Ale (Bronze), both recently recognised as the two largest selling craft beers in New Zealand by value according to AC Nielsen supermarket data for 2016[1].
Moa Brewing Co. CEO Geoff Ross said it was pleasing to see the two 'NZ-popular' beers recognised internationally as well as a number of other Moa beers including the Saint Josephs continue to win further awards on a global stage. "While we narrowly came in at second place in the Champion International Brewery category (for mid-sized breweries) against Pelican Brewing Company (of Oregon, USA), we're thrilled with the results and those of our fellow New Zealand brewers. It just continues to demonstrate the quality of brews us Kiwis can produce," says Geoff.
New Zealand, as a country, proved its weight in gold (medals) – well represented both in medal count and on a geographical scale with Bach Brewing (Auckland), Hot Water Brewing (Waikato), Sunshine Brewery (Gisborne), ParrotDog (Wellington), Harrington's Brewing (Christchurch), Emerson Brewing Co. (Dunedin), and Craftwork Brewery (Oamaru) also picking up gold medals for their brews.
Moa's Head brewer, David Nicholls, is understandably thrilled with the results. "From the more accessible lagers and pale ales to the complex sours and specialty brews, it's fantastic to be recognised among the best and in such a wide range of beer styles. I know exactly which brew I'll be cracking open to celebrate tonight," says David.
The Moa beers that received medals were as follows:
*Gold – Moa Smoked Helles (Smoked, Best Specialty Beer)
*Silver – Moa Original Lager (Best Australian Style Lager), Moa Southern Alps (Best IPA, Other IPA), Moa St Josephs (Tripel, Best Belgian/French Style Ale) and Moa Sour Grapes (Other Belgian/French Style Ale)
*Bronze – Moa Methode (Bohemian Style Pilsner, Best Pilsner), Moa Session Pale Ale (Best New World Style Pale Ale) and Moa 5 Hop (British Style, Best IPA)