Japan's best-selling RTD – Kirin Hyoketsu – is now available in New Zealand.
Pronounced Hyo-ket-su, the beverage brand makes its Kiwi debut with its signature Lemon flavour; a blend of vodka, soda and frozen natural lemon juice.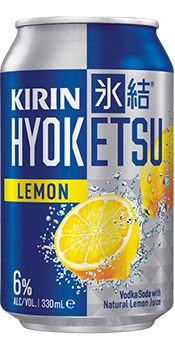 Kirin Hyoketsu Lemon is created using the innovative 'Hyoten Toketsu method' which freezes the lemon juice at -18°C to lock in the intense citrus flavour, delivering a perfect blend of sweet and sour lemon notes.
"The flavour is clean and crisp, without any lingering aftertaste that so many RTDs often leave behind," says says Russell Curtis, Brand Director, RTDs, Spirits and Wines for Lion New Zealand.
"Kiwis have a deep appreciation for both Japanese culture and pre-mixed drinks, of which Kirin Hyoketsu is the perfect culmination."
Kirin Hyoketsu is 6% ABV with a sugar content of 0.3g and 116 calories per can. For more information, follow @kirinhyoketsu_nz on Instagram.
How to catch up with The Shout NZ…
Online, updated daily with its own unique content and breaking news.
Our weekly newsletter – free to your inbox! Subscribe here.
We are also on Facebook and Instagram!