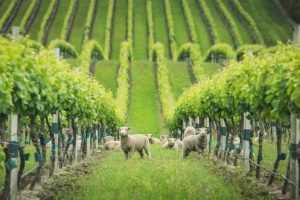 Yealands Estate Winery has just been recognised with a 2016 TripAdvisor® Certificate of Excellence. Now in its sixth year, the achievement celebrates hospitality businesses that have earned great traveller reviews on TripAdvisor over the past year. Certificate of Excellence recipients include accommodations, eateries and attractions located all over the world that have continually delivered a quality customer experience.
Peter Yealands, Founder of Yealands Wine Group, was delighted to receive this recognition for the Seaview winery, which offers complimentary wine tastings, a self-guided vineyard tour complete with downloadable Yealands Estate White Road Tour app, and audio-visual and interactive displays all about sustainable wine production.
"It's fantastic to be recognised by the people who visit our winery, to know that they really get something out of the experience," said Yealands. "We're very proud of our Seaview winery, which has been CarboNZerocertTM since inception. We are continually working towards our goal to become a global leader in sustainable wine production and we want to share that vision in a fun and interactive way. Next time you are passing please come our way again, the experience will be even better as we are not sitting still so there will be plenty more to see!"
The Certificate of Excellence accounts for the quality, quantity and recency of reviews submitted by travellers on TripAdvisor over a 12-month period. To qualify, a business must maintain an overall TripAdvisor bubble rating of at least four out of five, have a minimum number of reviews and must have been listed on TripAdvisor for at least 12 months.
Did you know?
Yealands Wine Group was formed in September 2011, when Yealands Estate acquired the well-established Hawke's Bay boutique winery, Crossroads, and successful Marlborough brand The Crossings. The combined entity is now one of the largest privately-owned wine companies in New Zealand, with a global reach of more than 70 international markets.
The global brands of the combined portfolio include: Yealands Family Wines; Yealands Estate and Peter Yealands Wines; Crossroads and The Crossings.