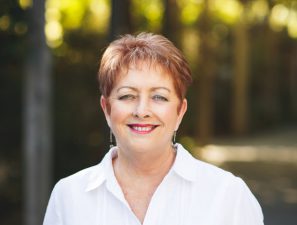 Hunter's Wines Owner, Jane Hunter, has been awarded Wine Marlborough's Lifetime Achievement Award 2016 for her contribution to Marlborough wine.
The award, presented by Wine Marlborough Director Simon Bishell at the Marlborough Wine Awards 2016 Celebration Dinner, recognises Jane's lifelong commitment to not only Hunter's Wines but the greater Marlborough wine industry.
With a career in Marlborough wine that started in 1983, Hunter began as a viticulturist for Montana Wines and took over the reins at Hunter's Wines after her late husband's sudden death in a car accident.
"It is always humbling to be singled out to receive such an award and is a great honour," she says. "Marlborough and Hunter's wines have been a major part of my life for over 30 years. It has been a very rewarding journey and to have been part of Marlborough wines success story has been a privilege."
During her speech, Ms Hunter also made a special tribute to her late husband, Ernie Hunter, and to former chief winemaker, Gary Duke, who was an integral part of the success of the wines for more than 21 years.
The Marlborough Lifetime Achievement Award comes on the back of the Wolf Blass AM Award received in Canberra two weeks ago.
Jane Hunter's other accolades include: an OBE for Service to Viticulture (1993), Inaugural Wine & Spirits Competition Women in Wine Award (UK, 2003), Companion to the New Zealand Order of Merit (2009), first women inducted into the New Zealand Wine Hall of Fame (2013).
#hunterswines #janehunter #marlborough