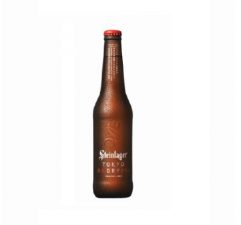 Steinlager has released a new beer to transport Kiwis from Down Under to Japan, Steinlager Tokyo Dry.
Available now in grocery and liquor stores, Steinlager Tokyo Dry is a refined style of Japanese beer which mixes the best of New Zealand's ingredients with the tried-and-true Japanese style of brewing.
Tokyo Dry's in-store marketing campaign aims to turn the conventional shopping experience on its head by including a hologram display that will run for twelve seconds. The hologram shows the new bottle being poured and is accompanied by sound.
The technology touch-point will be rolled out in 11 grocery stores and six liquor stores across the country and breaks all the rules of in-store sampling with hologram installations.
Leanne Too, Lion Shopper Marketing Manager NZ says: "Shopping is often such a methodical process. We follow our normal path and pick up the products that we know. We're hoping that by offering an experience that is shopping meets theatre, we can break shoppers out of their normal routine and convince them to try Steinlager Tokyo Dry."
Steinlager Tokyo Dry is available in 12 pack bottles (rrp $26.99) and in 500ml cans (rrp $3.99) through selected retailers across the country.
#tokyodry #steinlager #lion