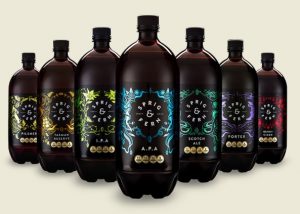 Nelson brewery, Sprig & Fern, has announced a major rebrand – including new brandmark, logos and packaging to draw focus on the core philosophies of the brand: CRAFT & BEER.
The new branding also introduces colour to the black and white imagery previously used, but still pays tribute to the monotone heritage of the Sprig & Fern brand.
"After 10 years it was time for a change but it is also about introducing a new national audience to our brand," says Sprig & Fern owner Tracy Banner.
"Whilst it was challenging to condense each Sprig & Fern Craft Beer & Cider down to two words, the process was ultimately rewarding and of course will assist both our experienced and new consumers in familiarising themselves with the palette expectations of each product," says Banner, who also holds the position of Head Brewer.
Each design will be an experience for the consumer to discover all the key elements, driven by the descriptors. For example: Tasman Reserve, described as Bold and Bountiful, is swirl of metallic gold illustration with outlines of Abel Tasman.
Along with the new brand and logo the Brewery has installed a brand-new bottling plant, which will see the business capable of bottling up to 1000 litres of product each hour.
Lee Brown, General Manager at Sprig & Fern says: "The Sprig & Fern logo and branding may have been given a facelift and the latest technology included in our new bottling facility however, Sprig & Fern will as always be first and foremost committed to hand crafted quality."
Sprig & Fern offers 16 products in its core range plus two limited release beers at any one time. The products are available through the nine Sprig & Fern Taverns in Nelson, Tasman and Wellington. The new brand look is to be rolled out across the Sprig & Fern Taverns as well as their retail presence nationally.