The world of sparkling wine is expanding and changing rapidly.
Transport costs alone have meant price increases which inevitably have been passed onto the consumer.
This has also meant consumers are looking more specifically at different options and value.
Bottled fermented sparkling wines that are not Champagne, but can taste just as good, mean the options available are increasing.
What's good, what's great and what represent excellent value are all considerations that sparkling wine drinkers are now looking at more seriously.
Our Master Sommelier Cameron Douglas explores some of the options in this month's tasting guide, here are some of his top picks…
No. 1 Family Estate Reserve Marlborough Méthode Traditionelle NV
There's no mistaking complexity and panache as the bouquet of this wine unfurls and as it begins to open out on the nose scents of a fully developed autolysis, baked bread, oatmeal and brioche are revealed. Peach then orange peel, yellow apple then pressed white flowers, a fine and complex autolysis. On the palate an equally complex wine with a depth and breadth that grows as the wine becomes more ambient, flavours of baked goods and stone fruits laced with a lees spice and fresh citrus quality showcase all this wine has to offer. Rich in flavour and character, complex, lengthy and dry. The mousse carries a plush texture framed with acidity and softness. A fantastic wine with best drinking from 2023 through 2033+.
Points: 97
RRP: $96.00
Distributor: No. 1 Family Estate
Phone: (03) 572 9876
www.no1familyestate.co.nz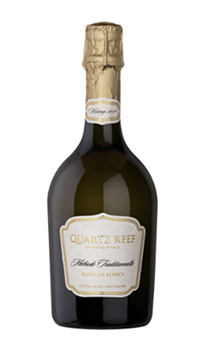 Quartz Reef Central Otago Blanc de Blancs Méthode Traditionnelle 2017
Complex and developing bouquet with a core of white fleshed stone fruits and citrus with a grapefruit seam, there's a core of autolysis with sweet brioche and pastry goods, apple tart and a mineral quality suggesting white clay. Delicious from the first touch on the palate with a seamless flavour and texture profile of fruit flavours that mirror the bouquet, baked goods and lengthy leesy finish. The mousse has a plump softness and acidity a touch of saline as well as carrying flavours through the palate. Lengthy complex, delicious and ready. Best drinking from day of purchase through 2028.
Points: 96
RRP: $85.00
Distributor: Vintners New Zealand
Phone: (03) 445 3084
www.quartzreef.co.nz
Champagne Ayala Aÿ-Champagne Brut Majeur NV
Deep straw with golden yellow hues lead to a bouquet of finesse and charm, complexity and allure. Aromas of peach and brioche, a complex lees autolysis and scents of dried chalk and sea air. Delicious on the palate, dry, crisp, saline and fruity with flavours of citrus and apple, white fleshed stone fruits and complexities from lees autolysis. Weighty and full-bodied with a finely textured mousse, backbone of acidity and lengthy finish with a whisper of white strawberry. Best drinking from day of purchase through 2028.
Points: 95
RRP: $89.00
Distributor: Negociants New Zealand
Phone: (0800) 634 624
www.negociants.com/nz/home
To read all of Cameron's Champagne and sparkling wine reviews, click here!
Cameron Douglas is New Zealand's first and only Master Sommelier. An experienced wine commentator, judge, reviewer, presenter and consultant, he is the Beverage Director & Group Sommelier for Rodd & Gunn and is the Patron of the New Zealand Sommeliers and Wine Professionals Association. Formerly academically in charge of the Wine & Beverage Programme at AUT in Auckland, Douglas has also consulted to a variety of establishments, taking care of their wine lists, wine and food pairings, and staff training matters, and he currently serves on the Board of Directors for the Court of Master Sommeliers Americas.
How to catch up with The Shout NZ…
Online, updated daily with its own unique content and breaking news.
Our weekly newsletter – free to your inbox! Subscribe here.
We are also on Facebook and Instagram!