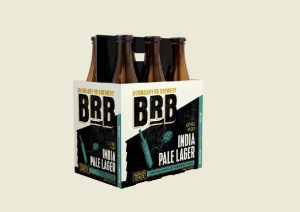 Boundary Road Brewery has launched a complete overhaul of their brand.  BRB's new look features new brews, new packaging, a new website and a bold outdoor campaign, all based on input from their loyal customers.  Through Facebook, fan-favourite BRB beers were voted on and locked in to the new-look launch. A digital suggestion box inside the brewery, triggered by live comments, allowed fans to use the platform's new live streaming feature, to feed new beer suggestions directly to Head Brewer, Trevor Rollinson.
"Maintaining a strong dialogue with our drinkers is paramount to any big changes we make around here. The input from everyone, directly to the brewery on our new direction, has been outstanding," says Andy Havill, Category Manager – NZ Beer & Cider at BRB.
As a result, three new beers have been produced, creating the new Brewer's Choice Range:
– 'Long Hop' – an India Pale Lager, which is a fusion between the hoppy flavour of an IPA and the refreshing finish of a lager.
– 'Chocka Riwaka' – a South Island Pale Ale made with locally sourced South Island ingredients, including the notoriously hard to acquire Riwaka hop.
– 'Weiss Guy' – a smooth White Ale with subtle notes of citrus and passionfruit from dry-hopped Nelson Sauvin hops.
"I'm so proud of these new beers. Someone recently asked me which was my top pick, it was like choosing a favourite child, I can't do it. I'll leave that to all our drinkers to decide," says Trevor Rollinson, Head Brewer at BRB.
Cleverly positioned between their existing Originals and Brewer's Cut Ranges, the Brewer's Choice Range adds a welcomed mid-level exploration for craft enthusiasts.  Along with all the feedback helping to create the new beers, BRB has also moved the fan favourite '18th Amendment' from the 500ml Brewer's Cut bottle into a more sessionable 6- pack, making the American Pale Ale the fourth member of the Brewer's Choice Range.  The number three craft beer brand in New Zealand has a whole new look, including a new logo and new packaging that now includes a flavour scale, making it easy for drinkers to navigate which brew matches their craft cravings.
The new launch is a big move for BRB, refreshing the brand is vital in the competitive craft beer segment, which has grown by 22.9% volume in the last quarter.
Visit their website, here.