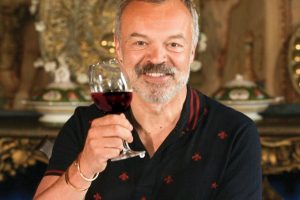 Irish and global TV celebrity, Graham Norton's collaboration with Invivo Wines has produced a Blue Gold medal for his debut Kiwi Rosé and a Gold medal for his South Australian Shiraz in the 37th Sydney International Wine Competition.
The inaugural Graham Norton's Own 2015 Shiraz is a blend of grapes from the Barossa Valley, McLaren Vale and Langhorne Creek which 'Chief Winemaker' Graham Norton blended the wine at Bantry House in County Cork, Ireland with the Invivo team. The 2016 'Pink by Design' Rosé is produced from Pinot Noir and Pinot Gris grapes grown in Marlborough and Hawkes Bay.
Both wines have been launched in Australia and New Zealand, and the Shiraz will be available in UK/Ireland from this month with the Rosé being launched in time for the Northern Summer 2017. They follow Graham Norton's first foray into wine, with his Graham Norton's Own Sauvignon Blanc in 2015 (from Marlborough) selling more than 600,000 bottles and chosen for Qantas Business Class.
The success of the Graham Norton Rosé wine is part of a major resurgence of Rosé style wines in the Sydney International Wine Competition and reflects a growing appetite for lighter bodied wines to match Australia's climate. There was a 52% increase in the number of Rosé and sparkling wines entered into this year's competition.
New Zealand's The Ned Pinot Rosé won the Trophy for Best Still Rosé Wine, while the Clover Hill Tasmanian Cuvée NV Rosé won the trophy for Best Australian Sparkling Wine.
The judging of the Competition took place in October with 1911 wines judged from eight countries. While New Zealand once again dominated the whites (and Pinot Noir), and Australia held sway in the medium and full bodied red categories, international wines featured in the medals across the competition.
A total of 290 wines were awarded TOP 1OO™, Blue Gold, and Gold medals, including 26 trophy winners.