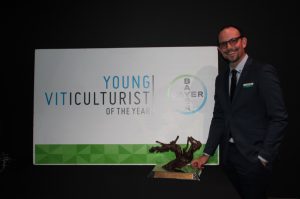 Tim Adams from Obsidian on Waiheke Island has been named the Bayer Young Viticulturist of the Year 2017.
Tim represented Auckland/Northern and it is the first time the trophy has been awarded to that region. It breaks a three-year run by Hawke's Bay.
Annabel Bulk from Felton Road, Central Otago, was named runner-up.
Annabel impressed the judges not only with her high level of viticultural knowledge, but also her great aptitude and ability in the practical challenges, as she very quickly and professionally rigged up some trellising, wiring and irrigation equipment.
The judges were impressed with the overall high calibre of all the national finalists: Ben Richards, Hawke's Bay; Ben McNab Jones, Wairarapa; Laurie Stradling, Nelson and Anthony Walsh, Marlborough.
This year the finalists were given a project to research and write a report in advance of the National Final. They then had to present this to three judges on the day itself. The competition was held at Villa Maria, Marlborough on 29th August. Here the contestants undertook a wide range of challenges testing their skills and knowledge including budgeting, pests and diseases, tractor maintenance, trellising, irrigation and general viticultural knowledge. They also had an interview, competed in the Biostart Hortisports and finally had to deliver a speech at the Bragato conference. Feedback from the Bragato audience is that the speeches were all inspiring and very well delivered.
Tim not only gains the title of Bayer Young Viticulturist of the Year 2017, but a prize package of  a Hyundai Santa Fe for a year, a $5000 AGMARDT travel scholarship, some engraved Bahco golden secateurs, $2000 cash, wine glasses and a leadership week.
He will also go on to represent the wine industry in the Young Horticulturist of the Year Competition in November.