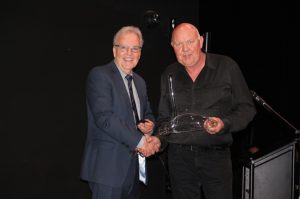 A Cabernet Franc from Canterbury has come out on top at the 2017 Romeo Bragato Wine Awards.
Grown by Lindsay Hill in the Waipara West vineyard located in Canterbury, The Boneline Cabernet Franc 2016 won the coveted Bragato Trophy for Champion Wine of the Show.
The wine also picked up the O-I New Zealand Trophy for Champion Emerging Red Wine.
"This Cabernet Franc was a pleasure to judge, but equally an absolute joy to taste, savour and discuss," says Chair of Judges, Ben Glover. "This wine is certainly all about a single site… A real treat."
Fourteen trophies in total were awarded and the geographical spread was diverse, with four going to Marlborough; three each going to Hawke's Bay, Canterbury and Otago; and one going to Nelson.
The Bragato Wine Awards recognise the grower for viticultural excellence and acknowledges that growing excellent grapes is the foundation of making wines of true quality. For the first time in the competition's 23-year history, all wines entered in 2017 had to be single vineyard wines.
"By making the shift to a single vineyard show, we're allowing our industry to express the Turangawaewae of their distinctive sites," says Glover.
The Bragato Wine Awards are held each year as part of the New Zealand Winegrowers Romeo Bragato National Conference. For more information visit www.bragato.org.nz.