As the hospitality industry continues its recovery from extended lockdowns, The Shout NZ is dedicated to supporting Kiwi locals. In the March issue of the magazine, we explored some of New Zealand's best spots to sip on a spectacular cocktail.
Auckland: Caretaker (above)
Caretaker is a dimly lit working class bar in Central Auckland with friendly staff, '70s rock 'n' roll and delicious drinks. A place where everyone feels comfortable and welcome to come as they are, the staff at Caretaker are dedicated to helping people understand more about what they like, so that they can have better cocktail experiences. Owners Heather and Alastair hire bartenders based on personality above all else, knowing that they can teach anyone to make a good drink but to teach someone to be kind and friendly is much harder.
Signature cocktail: They don't have one signature drink but a great option is the Dazed and Confused – Mezcal, fresh grapefruit, fresh lime, agave, topped with IPA.
Number one must-have behind the bar: Quality ice. Ice is the most over looked ingredient and bad ice is the quickest way to ruin a drink.
Auckland: Est 1901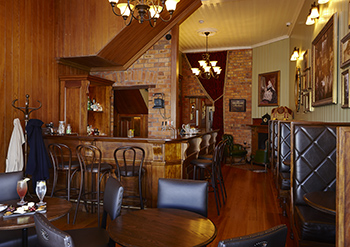 Delivering a dose of historic charm and originality to the Ponsonby bar scene, Est 1901 has been transformed into a version of its original self; a Victorian-era shop, parlour, and washhouse. With turn-of-the-century furniture, furnishings and art, it's like walking into the year 1901 where people worked and lived more than 120 years ago. An imaginative cocktail menu – honouring the original owner of the building, Miss Irvine – and fantastic staff help customers feel transported from everyday life.
Signature cocktail: Miss Irvine – a sweet crème de cacao and white chocolate liqueur dessert drink.
Number one must-have behind the bar: High quality ingredients, from the alcohol to the mixers and the garnish.
Queenstown: Little Blackwood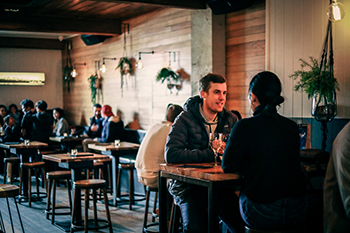 A classic yet hip cocktail bar sitting perched on the famous Steamer Wharf, on the waters' edge of Queenstown's Lake Wakatipu, Little Blackwood is the place to take in the stunning vistas or settle in by our roaring fire and let some of New Zealand's best live musicians entertain you. With a team that is always looking to create that a 'wow' moment with all guests, Little Blackwood always puts hospitality first.
Signature cocktail: Therange of Espresso Martinis – currently there are five variations on the menu. Try a 'Salty Nuts', you won't be disappointed!
Number one must-have behind the bar: Creativity. This is more important than any bar tool or liqueur.
Nelson: Kismet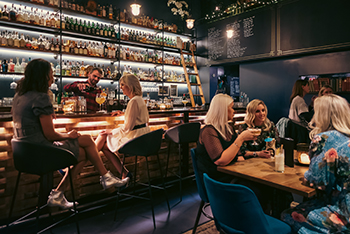 With a warm, ambient atmosphere and intimate spaces for lounging Nelson's Kismet is a home away from home – with a really good liquor cabinet! With a show-stopping whisky selection and a team that lives and breathes what they do, Kismet is the perfect balance of incredible service, knowledge and heart.
Signature cocktail: Nelson's Blood – classic Speyside Whisky, blood orange liquor, lime juice, house made grapefruit shrub and cranberry juice.
Number one must-have behind the bar: Fernet Branca
Wellington: Crumpet
From the outside, Crumpet it looks like an eccentric, cosy cocktail bar with beautiful décor, and upon entry, you immediately feel at home. With a menu changes that each month, highlighting two new ingredients, the house-made ingredients used in their cocktails include sodas, spiced olives, compote, chutney and evolving list of seasonal liqueurs. It's a warm, homely feeling of staycation at Crumpet – a local getaway where you can sip Negronis and have a read through some of the many cocktail books on the shelf.
Signature cocktail: Favourites include the Negroni (and variants), Champs-Élyées, Naked and Famous, Vieux Carré, Eastside and of course a decadent martini made with their very own Crumpet Gin.
Number one must-have behind the bar: Chartreuse, Absinthe, over proof Jamaican rum ('Uncle Wray') and, of course, a tasty pale ale from a local brewery.
Story originally published in the March issue of The Shout NZ, you can read the full issue below.
Did you know?
There are 6 ways you can catch up with The Shout NZ?
Our print magazine – March issue out now! Subscribe here.
Online, updated daily with its own unique content and breaking news.
Our weekly newsletter – free to your inbox! Subscribe here.
Our digital magazines – the latest issues are online now.
We are also on Facebook and Instagram!