The growing thirst for no alcohol beverages has prompted Giesen Group to invest in new technology and launch two new 0% wines – a New Zealand Pinot Gris and a New Zealand Rosé.
Giesen Group is the first winery in the country to purchase its own spinning cone – a high tech machine, manufactured in Australia, critical to making high quality 0% alcohol wines.
Valued at more than $1 million, the machine gently distils wine into three layers: aroma, alcohol and body.
Leaving the alcohol aside, the distinctive aroma is combined with the body of the wine to create 0% alcohol wine with as many recognisable characteristics as possible.
Giesen launched the world's first alcohol-removed New Zealand Sauvignon Blanc last year.
Buoyed by that success, Giesen decided to buy its own machine and is now launching Giesen 0% – Pinot Gris and Giesen 0% – Rosé in New Zealand this month.
International research predicts that global sales of no and low alcohol sales are set to increase 31% by 2024, valued at more than $1.6 billion.*
Giesen Group Chief Winemaker Duncan Shouler says this forecast underscores Giesen's experience in New Zealand where a growing number of consumers are calling for low and no alcohol wines.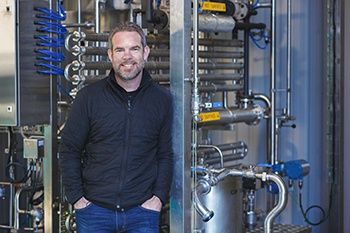 "We thought initially the market for these products would be health and wellness fanatics but it's actually much wider than that," he says.
"It's wine drinking consumers who want to be able to drink it without alcohol on occasion – such as when they need to drive or don't want the after-effects of alcohol.
"The challenge is growing awareness among consumers that there is actually decent tasting alcohol-removed wine available.
"We don't think they should have to compromise on taste so we're using our 40 years of winemaking experience to make a great quality wine first before the alcohol is removed," Shouler says. 
These new releases mean Giesen now has nine low- and no-alcohol products.
"Now that we have our own spinning cone, we'll be able to trial a variety of techniques to further improve the blend," says Shouler.
"It allows us to refine and innovate across our products. We're seeing better and better wines every time we produce them."
Did you know?
There are 6 ways you can catch up with The Shout NZ?
Our print magazine – July issue out now! Subscribe here.
Online, updated daily with its own completely unique content and breaking news.
Our weekly newsletter – free to your inbox! Subscribe here.
Our digital magazines – the latest issues are online now.
We are also on Facebook and Instagram!