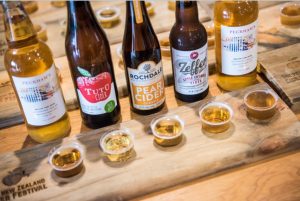 The New Zealand Cider Festival is back for its second year in New Zealand's Cider capital, Nelson.
It will be held on November 4, 2017 at Founders Heritage Park, to coincide with the NZ Cider Awards and early bird tickets are on sale now.
Described by National Geographic as "heaven for Cider seekers", Nelson produces 60% of the country's cider due to its high concentration of cideries.
With a selection of top NZ Cider makers already on board, including locals Peckham's Cider and recent winners of 'The World's Best Cider', Zeffer Cider, event-goers are in for a treat.
With an exciting line up of entertainment, celebrity speakers and kids' activities planned, it is set to be a highlight on many calendars. Cider popularity has doubled in the last five years with more than one in four consumers now including cider in their shopping – but there are still more than a third of New Zealanders who have never tried cider! The NZ Cider Festival offers the opportunity to try a huge range of ciders created by cider makers from all over New Zealand in one handy and very scenic central location.
Get your tickets from www.ticketek.co.nz