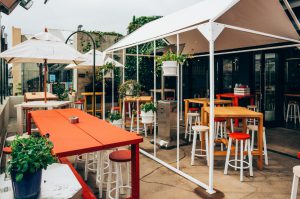 Kingsland local Neighbourhood has reopened its doors and revealed its new look.
Packed with colour, Neighbourhood resembles an imaginary playground – it's unconventional with vibrant colours and bespoke artwork, inevitably creating an entirely unique space.
New segmented areas include an outdoor non-smoking area, perfect for enjoying laid back evenings around the wood fired pizza oven. On the opposite side, there's bar leaners and both outdoor areas now enjoy a roof to keep guests dry and comfortable whatever the weather.
"We're so excited about reopening! Shutting the doors was a big call while we got the job done, but we hope to bring the Kingsland community back together again and are confident we have improved the local hang-out so everyone will feel at home and can relax in our hood," says owner Justin Howse
Neighbourhood Mac's Brew Bar has Mac's beer on tap, serves craft beers, local and international wine, and has an Italian inspired modern pub style menu with a wood fired pizza oven taking centre stage.