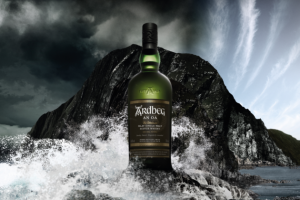 Ardbeg has announced the release of An Oa (pronounced "an oh"), the first new permanent expression to emerge from Ardbeg for almost a decade.
Inspired by the most untamed part of The Ultimate Islay Malt's remote Scottish island home, An Oa is a a smoky, sweet and rounded single malt.
"We are excited to welcome this new Ardbeg malt to the country," says Ardbeg Senior Brand Manager Ali Campbell. "Whisky fans across New Zealand will be able to enjoy An Oa's contrasts of powerful intensity and sweet silkiness that pay homage to its strong Scottish heritage and the new Ardbeg Gathering Room."
The Gathering Room, created from a former grain store at Ardbeg, has been custom designed to hold Ardbeg's Gathering Vat. Crafted from French oak, the vast Gathering Vat allows the different cask types used to create Ardbeg An Oa to marry. With the magic of time, their flavours are rounded into a whisky which reaches new heights of complexity.  The rounding that takes place in The Gathering Room has its origins in centuries-old whisky practices, whereby distillers would sometimes combine different casks in one vat, with intriguing results.
Ardbeg's Director of Distilling, Whisky Creation & Whisky Stocks, Dr Bill Lumsden, says: "Ardbeg An Oa's rounded and subtly smoky aromas reflect all the contrasts of the Mull of Oa. It is years since the world's smokiest, peatiest Islay malt added to its core range.  We hope smoky malt whisky fans everywhere will be drawn to Ardbeg An Oa."