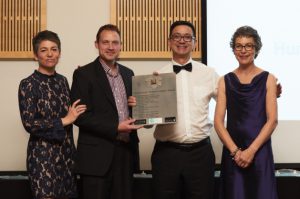 Hunter's MiruMiru Reserve 2013, and Hunter's Riesling 2016, 2012, and 2006 have been recognised with trophies at the 2017 Marlborough Wine Show, picking up the Winemakers' Association of Marlborough trophy for Champion Sparkling Wine, as well as The Marlborough Museum Legacy Award.
Hunter's Wines Managing Director Jane Hunter says the trophies are the latest in a string of awards for the team, who put great efforts into producing quality wines.
"The last 12 months have seen us pick up the Wolf Blass Award, the Rose Bowl trophy and now the Legacy Award for Riesling," she says. "Our wines are primarily going into restaurants and fine dining; we want these wines to age well and these awards indicate that we are on the right track."
The Legacy Award is presented by the Marlborough Wine Show, together with the Marlborough Museum, to acknowledge producers whose wines offer significant pedigree.
Entrants must submit three vintages of one wine within a 10-year period, with a minimum gap of two years between each one.
"It is extremely satisfying to win awards for Riesling, which generally flies well below the radar," says Hunter.
The Winemakers' Association of Marlborough trophy for Champion Sparkling Wine is also one of multiple awards for the Hunter's MiruMiru range.
Hunter's winemaker Inus van der Westhuizen was at the awards last week to collect the trophies, and says the team was very pleased to receive the award.
"Quality first is very much part of what everyone is striving for at Hunter's Wines," he says.
"A lot of effort goes into making this wine and it's very satisfying when the wine gets the acknowledgement it deserves."
The Marlborough Wine Show reviews and assesses wines produced from a minimum of 95% Marlborough grapes, and celebrates excellence of both Marlborough wines, and the Marlborough wine industry as a whole.