Cameron Douglas MS shares tips for bar owners on how to create a varied and well-received wine list.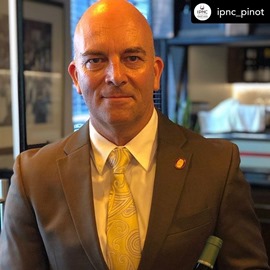 Curating an interesting and profitable wine list for a restaurant has specific requirements around target audience, style of cuisine, capabilities of the front of house team, talent in the kitchen and pricing for bottle and by the glass sales.
To make decent, yet fair, profit is the obvious goal – with all the listed complexities and challenges making this a complex situation.
A bar operation where the clientele can range from loyal regulars, locals looking for a place to gather with delicious food and easy to drink beverages, through drop-in guests is an equally challenging situation, in subtly different ways.
In addition, recent events mean the time to capture the attention of locals who cannot travel overseas anymore and want to spend local is here.
Bars have evolved to be more than simply pubs (aka a place for a beer, rum & coke and shepherd's pie and chips).
While there continues to be a market for this style, they are fast becoming venues where the menu and wine programmes, especially wine by the glass, are evolving to appeal to an audience of well-informed and beverage savvy palates.
It's important to keep the food and wine selections priced for the regulars, but the world of wine especially is showing that there is also interest in looking beyond the usual list of mainstream producers, and contracts with the big suppliers.
Bar focus is as varied as restaurant – while some bars are known as places for a quick beer and catch-up, a good feed that doesn't cost the earth somewhere to watch the footy on a giant flat screen, there are also places where some really well-made thoughtful food should be accompanied by wine that speaks more than just the varieties and brands we all know to something more sophisticated and complex without being too expensive.
Chardonnay
The peaches and vanilla cream style with its full-bodied slippery texture has a following and should command a place on the wine list.
A range of other styles and regions, ranging from Northland to Otago, from lean and clean to toasty and complex, should be considered.
If the average by-the-glass price on the list is currently between $12-$14 a glass and the clientele is varied, it's a good idea to have a few wines for $15-$18 dollars included.
Some will happily pay that if was offered something special – such as a glass of Te Mata, Bilancia, Odyssey or Man O' War.
Pinot Noir
Pinot Noir is another variety that calls for more than basic brands on a list.
Misha's Cantata, Pegasus Bay Vergence and Te Kairanga all offer fantastic drinking for a decent price.
Both Chardonnay and Pinot Noir are easy food and wine pairing varieties, and if the opportunity to offer both local and international brands is available the addition of California and French options such as Le Crema and Domaine Parent can add interest.
Pinot Gris
Drier styles of Pinot Gris are often more food-friendly and appetite-stimulating than off-dry or sweeter, more alcoholic styles (though the customers will determine the popularity).
For example, Greystone or Nautilus expressions are excellent alongside seafood and fish dishes.
Others
Popular or well-known brands are of equal importance in a pub-styled bar environment as not so well-known – they are safety-zone-wines for those customers who might not be comfortable with different brands, or perhaps even the pronunciation of varieties or styles.
Viognier (vee-on-yay ) or Gewürztraminer (gee-verts-tram-e-ner) are common examples of wines that are fantastic with food, and to drink, but not ordered as much as they should be perhaps because pronunciation challenges or lack of understanding – the training and upskilling of service staff here is key.
Bars have become more than just easy places to gather and are fast becoming venues where the dining may be more sophisticated. So too should the wine lists.
Did you know?
There are 6 ways you can catch up with The Shout NZ?
Our print magazine – February issue out soon! Subscribe here.
Online, updated daily with its own completely unique content and breaking news.
Our weekly newsletter – free to your inbox! Subscribe here.
Our digital magazines – the latest issues are online now.
We are also on Facebook and Instagram!