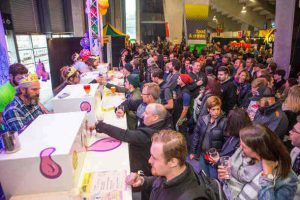 Award-winning beer writer Neil Miller was one of 12,000 attendees at Beervana 2016. In order to fully research this article, he attended two of the four sessions at New Zealand's premiere beer festival. 
This year there were a staggering 381 beers available at Beervana from 59 breweries across New Zealand, Australia and the United States. Almost half of the New Zealand beer contingent was made in Auckland or Wellington, with McLeod's (Waipu) being the northernmost Kiwi brewery represented and Emerson's (Dunedin) the furthest south. The smallest ABV was 2.5% (Wild and Woolly Basilisk Berliner-Weisse) while the strongest drink available was Peckham's Pommeau Special Cider (a whopping 19.5% due to the addition of brandy).
Reflecting the current craft beer market, by far the most popular style was pale ale with over 150 on offer. There were more sour beers (39) than lagers (32) for the first time, which could reflect the way the market is heading. Sour beer is becoming very fashionable. It was also telling that the average alcohol by volume across the festival had crept up to 6.36%. The number of ciders had also exploded with 36 available at Beervana 2016.
Even attending two sessions I only scratched the surface of what was on offer. Patrons could record their reactions to beers on the dedicated Beervana app and also vote for their favourites. Being kind of old-school, I used a notebook with my favourite beers recorded as Deep Creek Hoppy McHopface IPA, HorseBox Chili Infused Ronin Pilsner and Epic Thunder IPA (the only one I had tried previously).
Tapping into new trends
There were over 12,000 patrons across the four sessions of the two-day festival. Amongst them I spied several groups of supermarket owners and buyers looking to expand their craft beer range by discovering new breweries and beers. A number of the brewers I talked to around the Wellington stadium concourse noted an increase in supermarket sales after Beervana, in part because more stores were stocking them and more customers had become familiar with their products. Beervana patrons come from all over New Zealand and Australia.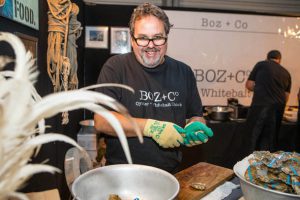 Beervana is not just about the beer. Food plays a prominent role and the quality continues to rise. Under the benevolent stewardship of noted Chef Martin Bosley, some of the capital's best eateries are represented at Beervana. While there is still (very good) fish and chips on offer, punters are equally likely to be tucking into gourmet pulled pork rolls, innovative dumplings, or slurping down a couple of oysters shucked to order by Bosley himself.
There were instructional walking tours and roving music acts throughout every session. This was the first time the entire stadium concourse was used, which provided more space and more seating areas. The bars ranged from the very small to the very large, highlighted by the Garage Project Brewery's impressive set which saw them dispensing their popular beers like rock stars from a stage complete with dry ice. They consistently had the longest queues.
Despite making my living writing and talking about beer, I still discover new breweries and new favourite beers at Beervana. In the last two years, my #1 Beervana beer (Rocky Knob Snapperhead IPA in 2015 and Deep Creek Hoppy McHopFace in 2016) were brews I had never heard of before. Additionally, a number of experimental beers showcased at Beervana go on to become commercially available.  Their topical Dump the Trump American IPA is also flying off the shelves.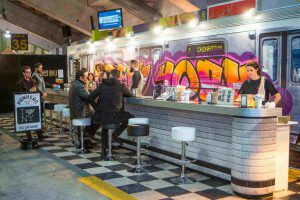 One of the first bars I visited was HorseBox, a brewery whose very existence I was previously unaware of. While sipping a rather delicious Ronin Pilsner (4.5%) which had been infused with fresh Scotch Bonnet chillies earlier in the day, I chatted to owner Phil McArdle who was representing HorseBox at their first ever Beervana.
McArdle, who hails from Ireland, ran a food manufacturing business making sauce. Then, "a few things changed" and he had to find a new direction in life. "If I was going to do something new, it had to be something I was very passionate about. It was craft beer. I've never felt the excitement and passion I feel toward making beer. I had done a bit of home brewing but threw myself 100% into HorseBox – there is no Plan B," McArdle explained.
Currently HorseBox, which will celebrate its first anniversary in November, contract brews at breweries around the country. McArdle explained there is a plan for a brewery "in the medium term if interest continues to build. The business has just snowballed. People wanted more so I made more and started knocking on a few more doors. The response has been great. Every day has been a learning experience and I have been enjoying it more and more."
One of those doors was Beervana. McArdle explained: "Beervana is a good beer Mecca really. It is awesome to showcase your beers to a concentrated number of your target audience. At Beervana we introduced my brews to people who did not know them and generated some business at the wholesale level. It was something I wanted to be involved in and I will definitely be there next year."
As HorseBox expands, it will be bottling more beer and becoming a bigger presence in supermarkets over the next six months. "I want HorseBox to be available everywhere as often as possible. It would be great to see Storm Hopper (our flagship pale ale) and one or two of my brews being available nationwide," said McArdle.
For the record, I do not usually like chilli beers but the HorseBox one was excellent and a highlight in a festival full of highlights. McArdle revealed he has "many, many, many mad ideas" about using chillies in future brews.
The organisers, the Wellington Culinary Events Trust, are promising even more for Beervana 2017. The countdown has started.