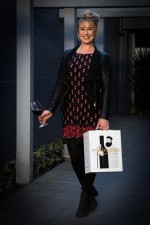 How much do you think your taste buds are worth? For Yvonne Lorkin, they're a sweet $1 million.
Lorkin is one of New Zealand's most high profile wine critics, a respected wine competition judge and, since its launch in October 2015, she's been the Chief Tasting Officer for wine subscription service WineFriend.
In an industry where having superior smelling and tasting skills is everything, Yvonne's abilities need to remain in top order to ensure her wine selections match the expectations of the rapidly growing number of WineFriend subscribers, who rely on her recommendations in their monthly or bi-monthly, personally-curated deliveries.  It's no surprise then, that the company is extremely serious about protecting its assets.
WineFriend has been successful in insuring Lorkin's olfactory system for the princely sum of $1 million through Lloyds of London. The cover is for her nose, palate and throat, and is scheduled to pay out should she suffer injury or illness which damages their function and prevents her from doing the work she's trained for.
Although 'taste' and 'smell' are separate senses with their own receptor organs, they're nonetheless intimately entwined*. Lorkin is regarded as a 'super taster' because she is among the top 10 to 25 per cent of people with hypersensitive taste.  And yet it is her sense of smell which defines how effective she is at interpreting those tastes, according to ENT specialist Dr Noel Nicholson.
"Over 90 per cent of perceived taste disorders actually turn out to be problems associated with the sense of smell" he says.  "After putting Yvonne through her paces in the University of Pennsyvania Smell Identification Test, which is considered the world standard and certainly the most validated exam of its type, I can confirm Yvonne has an 'excellent' sense of smell."
Lorkin says the insurance cover makes perfect sense.
"When I think about what percentage of my job relies on the integrity of my olfactory system – it's everything. We simply can't risk my nostrils or taste buds going on strike," she says.  "I'm not sure if I'm necessarily genetically any better than most people at smelling or tasting, but where my skills lie is in my ability to actually articulate them to a level that our customers can understand and relate to" she says.
WineFriend co-founder Debbie Sutton says WineFriend is insuring Lorkin's taste buds because it very much values her talent and, in turn, her ability to source outstanding wines from here and around the world.
"There is no other wine buyer in NZ with access to the sheer numbers of wines that Yvonne tastes and with the breadth of experience she has" says Sutton.  "During my 12 years as a winery owner, I saw wine retailers slowly replacing wine buyers with commercial buyers.  The former were usually passionate about wine and had brilliant tasting credentials, while the latter had usually come from another department such as toiletries or pet food. They were concerned with margins and promotional funding first, and wine quality second.  This is a disturbing trend that's happening both here and overseas."
Lorkin is obsessively devoted to connecting their customers with wines they'll love. "You've got to love wine to do this job," says Lorkin. "Luckily I do.  Enjoying a glass of wine is one of life's great pleasures and I want to experience and share that with others until the day I die."