The Shout NZ is dedicated to supporting Kiwi locals and in the latest issue of the magazine, we explored some of the hottest rooftop spots to sip on a cocktail this summer.
Auckland: HI-SO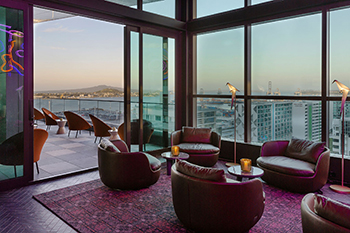 With sweeping harbour and skyline views combined with good people, music, drinks and food, HI-SO is the complete ambiance package. The avant-garde design brings together the soul and energy of the city and with seamless indoor-outdoor flow, it's an all-seasons venue.
Signature summer cocktail: Blood Orange Fizz – blood orange tea infused with botanical vodka, ginger and honey shrub, topped up with grapefruit tonic.
Number one food & drink pairing: High & Loud – Olmeca Altos Plata, mescal, fresh citrus, home-made white miso and ginger syrup, orange, ginger candy – paired with the chilli squid soft taco.
Auckland: Sunset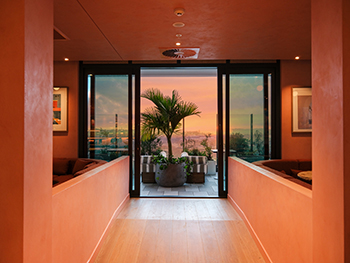 Sitting on the 10th floor of Auckland City's Sudima hotel, the first thing you notice are the incredible panoramic views. With architectural curves, textural tiles and bold colours like blush-pink ceilings and burnt-orange upholstery, it's a bit retro but very forward-thinking. Sunset has a distinct international feeling – a literary salon for the 21st century where great minds meet to mingle.

Signature summer cocktail: Anything from the menu designed by hospo legends Dana Johnston – founder of 1885, Agents & Merchants, 46 & York, and Mikey Ball – founder of Ballin' Drinks and former head bartender at London's Milk & Honey and Dandelyan.
Number one food & beverage pairing: The Sunset Sliders, with potato hash, feta, plum chutney and coriander, alongside the Shillong Blossom – Arquitecto Tequila Blanco, cherry blossom salt and East Imperial grapefruit soda.
Wellington: The Arborist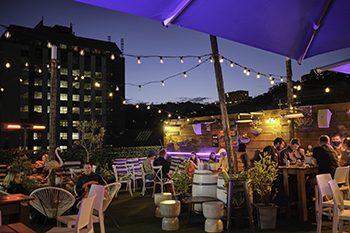 A hidden oasis from the noise of the city, The Arborist sits seven-storeys high and the rooftop garden is full of plants and greenery. With plenty of relaxed garden style seating, perfect for parking up in the sun with a drink on a nice day, there are also have heaters, blankets and hot water bottles to keep you warm once the sun goes down.
Signature summer cocktail: Strawberry frozé, frozen peach gin sour or frozen margarita.
Number one summer food & drink pairing: A sour beer and a delicious pizza.
Christchurch: Pink Lady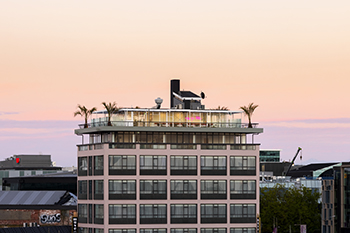 A boutique rooftop bar bringing sunny Miami vibes to Christchurch, Pink Lady has a breezy, summery vibe where people can enjoy hot afternoons or watch sunsets. The unobstructed view of the Port Hills is unrivalled in the city and the outside seating, combined with delicious signature cocktails and snacks makes it the perfect spot to spend those hot summer days!
Signature summer cocktail: The Pink Mistress – a pink gin cocktail served with a fluffy cloud of candy floss.
Number one summer food & drink pairing: While sipping on a Pink Mistress, nibble on some of Pink Lady's TikTok famous fried chicken!
Christchurch: Mr Brightside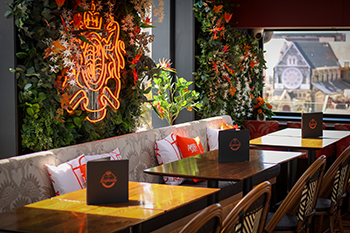 The last bar in Christchurch to get the summer sun, Mr Brightside has an open roof and sliding doors to look over the Avon River and mountain ranges. A welcoming and open environment, the staff will treat you like a local while also offering premium service. No two days are the same in summer at Mr Brightside.
Signature summer cocktail: The Dreadlock Holiday has become a staff and city favourite – a mixture of three rums, Italian bitters, tropical fruits, fresh ginger and cream.
Number one summer food & drink pairing: A summer take on a Dark & Stormy (using alcoholic Jamaican ginger beer) with salmon sashimi.
Originally published in the November issue of The Shout NZ. Read the full issue below.
Did you know?
There are six ways you can catch up with The Shout NZ?
Our print magazine – November issue out now! Subscribe here.
Online, updated daily with its own unique content and breaking news.
Our weekly newsletter – free to your inbox! Subscribe here.
Our digital magazines – the latest issues are online now.
We are also on Facebook and Instagram!