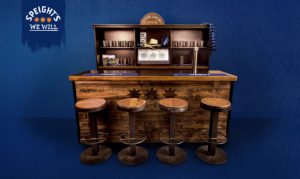 Speight's is giving three lucky Kiwis a custom-made bar worth $15,000 to complete their home, including personalised glassware, a bar fridge and a Speight's tap.
It comes with a catch though – anyone who enters has to show their unfinished space and have a bunch of mates who are willing to help put it together, because it's not completely finished!
Testament to the Kiwi reputation as a nation that rolls up its sleeves and mucks in, 65% of New Zealanders have answered the call of a mate in need, helping them knock off an unfinished project.
Ben Wheeler from Speight's says, "Speight's is the beer for people who get things done and the third year of We Will just builds on that. We have been amazed at how many people have jumped on the bandwagon, or nominated a mate in need over the years."
"We enjoy encouraging New Zealanders to complete the unfinished and enjoy a cold Speight's when the job is done," says Ben.
People over 18 years can enter online where they will be asked to show their unfinished space, tagging in the mates that will help them put it together.
The competition opens on May 1st and closes June 30th. People can enter online at www.speights.co.nz.