Rockburn releases limited edition Rosé
03 October, 2017 by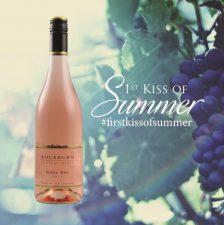 Rockburn has releases its highly-anticipated 2017 Stolen Kiss Rosé, offering the #firstkissofsummer to wine lovers around the country.
The iconic Central Otago winery is a Rosé pioneer in New Zealand, being one of the first wineries to take the pink tipple seriously, creating a cult-like following for their limited edition Rosé for several years now.
Stolen Kiss is made from grapes 'stolen' from Rockburn's highly-awarded Pinot Noir. The sweetly,  frivolous  and  fruity  side  of  Central  Otago Pinot Noir is bound up in this Rosé, evoking summertime rolling-in-the-clover frivolity and romance.
"Stolen Kiss greets you with candy-floss and crème-brûlée aromas, leading into a flirtatious toffee-apple and simmering strawberry palate smeared with cherry lip-gloss," says winemaker Malcolm Rees-Francis.
Stolen Kiss Rosé will be available in selected fine wine stores including Glengarry outlets and online via rockburn.co.nz (RRP: $29.99 750ml bottle and $55.00 limited edition magnum).
.