New Zealand Wines 2018
03 October, 2017 by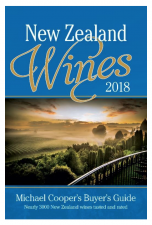 More than 25 years after its first release, Michael Cooper's latest Buyer's Guide is about to hit shelves.
New Zealand Wines 2018 is designed to help buyers make informed choices about the best quality wines available and is updated yearly with new tasting notes and ratings.
Divided by grape variety to help selection, the guide includes vintage ratings, star ratings for quality, and a dryness/sweetness guide.
Other features include Classic Wines: wines that consistently achieve an outstanding level of quality for at least three vintages.
New Zealand Wines 2018 is available from November 9, RRP $39.99.
About Michael Cooper: New Zealand's most acclaimed wine writer, Cooper has more than 40 books and several major literary awards to his credit, including the Montana Medal for the supreme work of non-fiction at the 2003 Montana New Zealand Book Awards for his magnum opus, Wine Atlas of New Zealand. In the 2004 New Year Honours, Michael was appointed an ONZM for services to wine writing and awarded the Sir George Fistonich Medal in recognition of services to New Zealand wine in 2009. The weekly wine columnist for the New Zealand Listener, he is also New Zealand editor of Australia's Winestate magazine and chairman of its New Zealand tasting panel
Published by Upstart Press on 9 November 2017, RRP $39.99
.