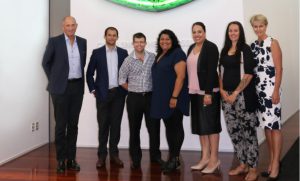 DB Breweries is delighted to announce the recipients of the 2017 DB Leading Light Scholarships.
The scholarships are awarded to members of the South Auckland business community, with the aim of further developing and enhancing the pool of first class leadership talent in the region.
In partnership with the New Zealand Leadership Institute (NZLI), five 'DB Leading Lights' have been selected to take part in the NZLI Leadership Mindset Programme in 2017.
The recipients for the Leading Light scholarship, which commences late March, are:
Nikki Timu of Alliance Communities Initiative Trust – Healthy Families – Manukau, Manurewa-Papakura
Zeena Khan of Manukau Institute of Technology
Justin Latif of Fairfax Media
Theresa Rorason of Auckland Tourism, Events and Economic Development
William Horsley of Goodman Fielder
With the DB Leading Lights Programme now in its fourth year and the scholarships well-known in the South Auckland business community, the high calibre of applications for the 2017 scholarships was no surprise. DB Managing Director, Andy Routley says, "The applicants this year were from a broad range of South Auckland-focused businesses and our five recipients all have outstanding leadership potential.
"The NZLI Leadership Mindset Programme requires a great deal of hard work and commitment and the resumes and the careers to date of our successful scholarship recipients are exceptional and left no doubt that they have what it takes to excel in the programme."
The DB Leading Light scholarships are designed to foster development and learning opportunities for South Auckland based leaders to enable a step-change in their personal and professional lives. "We believe that this will have a positive flow on effect to the wider community in which we all operate. And we couldn't ask for a better partner in New Zealand Leadership Institute – their programmes are truly world class," says Andy.
Vicki Watson, Chief Executive of NZLI says, "We admire DB Breweries generosity in supporting leadership development in South Auckland. These 2017 scholars will mean 25 leaders in the South Auckland will have been supported in their leadership. We very much look forward to watching the progress of the five scholars during the Leadership Mindset Programme and beyond."
Theresa Rorason, one of the five 2017 DB Leading Light Scholarship recipient says she applied as she felt the programme would challenge her professional and personal beliefs, values and understandings of leadership. "I am honoured to be one of the DB Leading Light Scholarship recipients and be part of a programme that will turn my thinking on its head. I am excited about working towards a mindset that is open to new ways to tackle challenges and create opportunities. I am also excited about being able to pass new learning on to my South Auckland Community."
The DB Leading Light scholarships are open to all managers and leaders who live or work in the South Auckland area.