Following the IWSC's medal announcements earlier this year, an elite team of judges gathered to re-taste the 2022 Gold Medal-winning wines, selecting the best of the best, for this year's trophy winners.
With more than 4,000 wine tasted over the course of the 2022 awards, the experts selected 20 wines as this year's trophy winners.
The 2022 top 20 trophy winning wines include three sparkling wines, five fortified wines, two dessert wines and 10 still wines – one of which came from New Zealand.
For the first time a still wine from Mexico was awarded an IWSC trophy for The Edición Limitada Cabernet Franc 2020, Monte Xanic.
A still wine from England was also awarded one of the 20 trophies: Lyme Bay Winery's 2020 Pinot Noir.
From Canada, the Small Blessings Cabernet Sauvignon 2019 from Blasted Church Vineyards was awarded a trophy and the remaining two red trophy winners were Cercatoja 2017, Tenuta del Buonamico from Tuscany in Italy, and Reserve Pinotage 2016, Rijk's Cellar from South Africa's Western Cape.
Three South African white wines were awarded a trophy, including the Barrique 2019, Vrede en Lust, Western Cape; GPS Series Sauvignon Blanc-Semillon 2020, Richard Kershaw Wines, Western Cape; and The Vineyard Collection Grenache Blanc 2021, Perdeberg Wines, Western Cape.

A trophy was also awarded to an orange wine from Georgia's Kakheti region – the Kartuli Vazi Select Orange Rkatsiteli 2020, Tifliski Vini Pogreb was recognised with the IWSC's highest medal.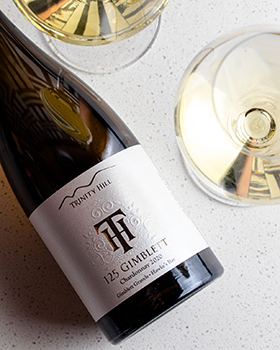 And the final still white wine to receive a trophy this year came from New Zealand's Hawke's Bay region with the 125 Gimblett Chardonnay 2020 from Trinity Hill.
Earlier this week, Trinity Hill also won Champion White Wine at the International Wine Challenge (IWC) 2022 with its Gimblett Gravels Chardonnay 2020 – the first time since 1991 that a New Zealand wine was named Champion White Wine by the IWC.
Five fortified wines were recognised with a 2022 IWSC trophy:
Viña Dulce Nombre NV, Gonzalez Byass S.A, Xerez, Spain
Oloroso VORS NV, Emilio Lustau, Xerez, Spain
Malvasia 20 YO Sweet NV, Justino's Madeira Wines, S.A. Portugal
Single Cask Sercial Dry 2005, Justino's Madeira Wines, S.A., Portugal
Superior Moscatel 2010, Casa Ermelinda Freitas, Portugal
And three sparkling wines, two from Prosecco's highest tier, Conegliano Valdobbiadene Prosecco Superiore DOCG, and a magnum of Champagne, showcasing the quality to be found in this larger bottle format:
Terra De Ru Extra Dry 2021, Cantina Bernardi, Conegliano Valdobbiadene Prosecco Superiore
Brut NV Anna Spinato, Prosecco Valdobbiadene Superiore Di Cartizze
Brut 2014 (Magnum) Piper-Heidsieck, Champagne
Dirceu Vianna Junior MW, IWSC Wine Judging Committee member and one of the trophy panel judges says tasting the best wines of the competition with some of the most competent judges in the land carries a lot of responsibility.
"Standards are always high and the fact that we are given limited information about each wine ensures that the Trophy tasting is a level playing field.
"Any country, any region and any producer can win and the fact that we had winners from Mexico, British Columbia and Essex illustrates that. In addition, we had some exceptional examples of great classic wines of the world that won trophies.
"The IWSC is a tough but fair competition. We encourage producers to send their very best wines in when the 2023 awards open in October to be assessed by tasters that are talented and commercially relevant since most are buyers."
For a full list of the IWSC's 2022 winners, click here.
Did you know?
There are six ways you can catch up with The Shout NZ?
Our print magazine – July issue out now! Subscribe here.
Online, updated daily with its own unique content and breaking news.
Our weekly newsletter – free to your inbox! Subscribe here.
Our digital magazines – the latest issues are online now.
We are also on Facebook and Instagram!