This Saturday, October 21, is World Mezcal Day – celebrating the distilled agave spirit that originated in Mexico more than 400 years ago.
Unlike Tequila, which is made using only Blue Weber agave, mezcal is made using various forms of agave.
There are more than 40 different varieties of the plant that can be used, with several types of mezcal options produced and flavours ranging from from sweet and citrusy, to smoky and earthy.
According to global spirits analysts IWSR, the stellar trajectory of agave-based spirits continued in 2022 with +13% volume growth, on top of a 2017-22 volume CAGR of +9%.
It's the perfect day to highlight the distinct flavours of mezcal on your beverage menu with mezcal-based cocktails, such as as Mezcal Margarita!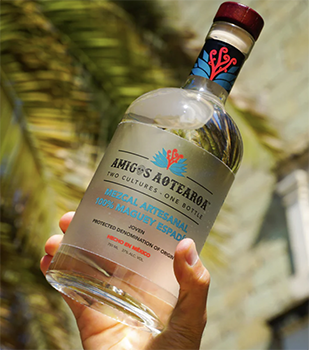 The Mezcal Margarita
A Mezcal Margarita is a smoky twist on the classic margarita, combining the unique flavours of mezcal with the traditional tangy and refreshing elements of a margarita.
Ingredients:
60ml mezcal
30ml fresh lime juice
30ml triple sec (orange liqueur)
15ml agave nectar
Ice
Lime wheel or wedge, for garnish
Salt (optional), for rimming the glass

Instructions:
If you prefer a salted rim, wet the rim of a rocks or margarita glass with a lime wedge, and then dip it into a plate of salt to coat the rim. Fill the glass with ice.

In a cocktail shaker, combine the mezcal, fresh lime juice, triple sec, and agave nectar.

Fill the shaker with ice, shake vigorously for about 15-20 seconds and strain the margarita into your prepared glass filled with ice.

Garnish with a a lime wheel or wedge.
Tip: You can adjust the agave nectar to your preferred level of sweetness.
How to catch up with The Shout NZ…
Online, updated daily with its own unique content and breaking news.
Our weekly newsletter – free to your inbox! Subscribe here.
We are also on Facebook and Instagram!