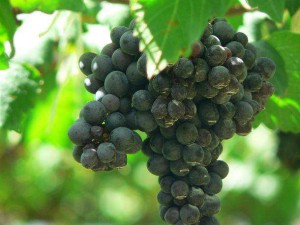 New Zealand has beaten France at its own game, in an international blind tasting of Syrah.
Three Hawke's Bay Syrah were placed in the top five in a comparative tasting in China, with Elephant Hill Airavata 2009 judged best in the competition beating French heavyweights.
"This proves that Hawke's Bay Syrah has a real place at the table of premium Syrah-producing regions of the world," Michael Henley, Chairman of the Hawke's Bay Winegrowers Association says. "We not only held up to the comparison but deservedly conquered the French."
The 10 Syrah – five from New Zealand and five from France – were judged by more than 30 wine writers and influencers, and trade buyers from China at the New Zealand Trade & Enterprise facility 'New Zealand Central' in Shanghai last week.
The panel was established by internationally renowned Dragon Phoenix Wine Consultants. Its co-founder, globally recogonised judge Fongyee Walker, praised the calibre of the Hawke's Bay Syrahs tasted, whose vintage ranged from 2004 to 2013. "Hawke's Bay Syrahs are sexy, delicious and great value," Walker, an Air New Zealand wine consultant, says.
Attendees were presented with 10 wines and asked to rank them in order of preference. The results are already gaining a lot of attention in Chinese media.
"A lot of excitement and debate was generated by the blind tasting," Walker says. "When the wines were revealed, there was a great buzz that the top wine was a Hawke's Bay one."
Henley led the delegation in China as part of the region's three-year China programme. He is excited by the results, and the anticipated boost to China imports.
"This was a fantastic way to highlight the amazing quality of Hawke's Bay Syrah and we are excited about what this could mean for our reputation in China, a key market for our region. There is potential to excel in China, where our wines, generally, are far more affordable than French Syrah."
Syrah is now ranked in the top 10 of the world's grape varieties. Originally from France, Hawke's Bay winemakers have quickly built a reputation for making award-winning Syrah, capitalising on the region being one of the sunniest areas in New Zealand with a climate similar to Bordeaux.
This trip also included wine masterclasses in Beijing and Shanghai and there is a second blind comparative tasting of French and Hawke's Bay Cabernet/Merlot blends being held in Beijing in August.