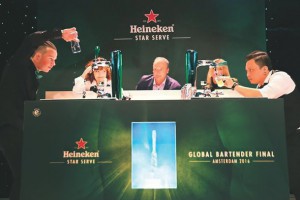 New Zealander Jared Gemmell took out second place at the Heineken Global Bartender Finals held in Amsterdam last month, an annual event which sees top bartenders from all around the world go head to head to demonstrate how to pour the perfect glass of Heineken draught beer.
20-year-old Gemmell, who is based in Hamilton and works at Keystone Bar, came within half a point of being crowned the world's top Heineken bartender, losing out by being marginally slower to pour. He was also the youngest to compete at the global finals.
"While I didn't quite get the title, the whole experience has still been the best of my career so far. The competition was intense, but I loved every minute of it and am thrilled with how far I was able to get!,' says Jared. "To come second in the world is a pretty incredible feeling."
Rinse, pour, skim, check, serve – these are the five steps in the Heineken Star Serve Ritual that contestants were being tested on. This ritual exists so that the absolute best quality beer is given to the lucky drinker. There is a team of people around the world that train every Heineken bar to pour this way, so that there is a world class drinking experience every time a Heineken draught beer is ordered, in any country in the world.
The Heineken Global Bartender Finals saw competitors pouring two beers at a time under the watchful eye of three judges, each monitoring a different aspect of the Heineken Star Serve Ritual.
"We are very impressed with Jared's success over in Amsterdam," says Heineken Marketing Manager Taylor Green. "He brings a great deal of skill and creativity to his serve, so it was great to see his talent recognised on a global level."
This is the first time New Zealand has sent someone to Amsterdam to compete in the Heineken Global Bartender Finals. Some bartenders across New Zealand have already started training for the national finals for their shot to represent New Zealand in Amsterdam in 2017.
Malaysian competitor Eddy Jay Jaimin, with a score a half point higher than Gemmell in the final, took out the international title.