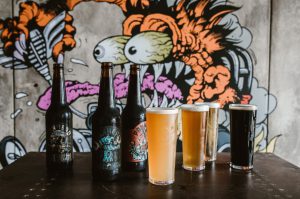 Wellington brewmasters Panhead Custom Ales have opened a craft beer pop-up bar in Auckland's Viaduct for the summer.
Formerly a nightclub, Panhead Viaduct Custom Bar has been customised from the ground up. It includes a pool table, games and most importantly a 14-strong tap system fashioned with a supercharged V8. The art of Wellington tattoo artist and illustrator Simon Morse flows from Panhead's bottles onto walls and seating.
Based in Maidstone, Upper Hutt at the old Dunlop tyre factory, Panhead is the brainchild of brewer Mike Neilsen. More recently he's been joined by long-time mate, and now General Manager, Josh Drake.
Known for their inventiveness and a willingness to try anything in the name of flavour, many of Panhead's more exciting one-offs haven't made it this far north until now, says head brewer Mike.
"Wellington's been a great place for us to grow but Panhead is more proudly boutique bogan than anything, and that's a nationwide phenomenon. Although our tasting room will be up and running at the brewery soon, Aucklanders haven't had the chance to see what we're about up close. Until now our tap beer availability up here has been pretty limited," he says.
The pop-up bar gives Aucklanders a chance to enjoy the proper Panhead experience. "Now that our pilot plant's cranking out a different beer every week you'll see a steady stream of the weird, wonderful and intense on tap," he says.
Newly opened, those 14 taps will soon be busy pouring Panhead classics along with an ever-evolving range of limited release specials, many of which will only be available at the Viaduct pop-up and Panhead's own on-site brewery bar.
These include Busted Knuckle, a massive Russian Imperial Stout aged in bourbon barrels for a vinous tang; Bug Crusher, aged in chardonnay barrels and fermented with a proprietary yeast from Crux Fermentation Project in the U.S.; Batch 003, a Milk IPA sweetened with lactose from actual cows; and Snake Oil, a soured IPA, premiered at this year's Beervana.
"We've also got about five or six one-off beers that no-one's tried yet that'll be available at opening. There'll be a big range with a bunch of different styles so you'll just have to turn up to see what we bring," says General Manager Josh.
With the duo keen to "open people's minds about what beer can be", there's a beer cocktail list and a small food menu designed to work with what's on tap. "Think low and slow, American pig-out food", says Josh. There's a fat burger, American chili dog, jalapeño poppers, Texas smoked brisket, slow-cooked 5 alarm chili, a penitentiary platter and pecan nuts glazed in blacktop stout and roasted in bacon lard.
And if all that beer isn't quite enough to entertain or keep the conversation rolling there's a pool table, pinball machines and dart board, and a stage that'll have live rock, rockabilly and blues on occasion. A selection of wine is also on offer for those who haven't got grips with the new world of beer just yet.
The Panhead Viaduct Custom Bar will be open until March.