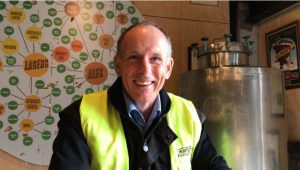 Monteith's has pleased to announce the appointment of new Head Brewer. Rob Marshall has taken over the mantle and brewing expertise from Tony Mercer, who has been the West Coast stalwart of Monteith's brewing for the past 10 years and is retiring.
Marshall has more than 28 years' experience in the brewing industry, with a vast knowledge and passion for beer. He is now a proud West Coast resident and is already crafting some unique new beers.
"Monteith's has a history and authenticity that not many breweries in the world will ever have, having been based on the coast for almost 150 years," says Marshall. "It's an honour to take over the reins as head brewer and add my name to the history of this iconic brand."
Not only are there changes for Monteith's behind-the-scenes at the brewery, the Monteith's brand has gone through a packaging refresh.
Taking inspiration from Monteith's home on the West Coast and Greymouth, the new packaging is led by a new custom bottle that showcases the iconic Monteith's miners spade embossed into the neck of the bottle, as well as the foundation date for the brand – 1868. It also includes imagery and a new colour palate.
And finally, there are two new additions to the family of brews – Monteith's Barber Lager and Monteith's XPA.
The 'Barber' is the local West Coast name for the katabatic wind phenomenon that occurs in the region and only a handful of other places around world. It is a carefully selected blend of New Zealand, German and US hops which deliver aromas of citrus and tropical fruit. It's moderately bitter with crisp clean aftertaste. Delivering a cold blast of late-hopped malty refreshment, like its namesake the infamous Barber wind which descends over the 12 Apostles near Greymouth.
For the first time, Monteith's launches an XPA to our burgeoning beer line-up, with a contemporary West Coast take on the explosive Extra Pale Ale category. A light malt base enhanced with toffee and crystal malts forms the backbone to showcase the fresh tropical and citrus hop aromas using an inspired trans-pacific combination of US Citra and NZ hops.
For more information on Monteith's, visit www.monteiths.co.nz.