Kiwi liqueur and spirits producer, Koakoa, has announced it is doubling down on its spirit crates system as it ramps up its commitment to be one of the most sustainable distilleries in New Zealand.
Koakoa's spirit crates system was initially launched in 2019 by co-owners Chris Barber and Bec Kay in response to the excessive amount of cardboard and glass being discarded in their sector after just one use.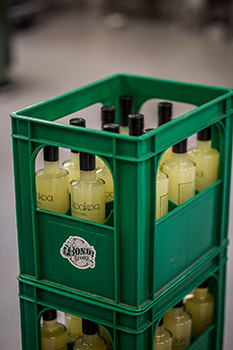 The company has received a $5000 grant from its local Council, enabling it to purchase an additional 200 plastic crates, doubling the scheme.
After Koakoa's gin, vodka and limoncello is delivered in the green plastic crates, their hospitality clients return used bottles (in the crates) to the factory.
After being washed, sanitised, and refilled, the bottles are returned to their clients. Each bottle is used up to seven times before ultimately heading for recycling.
Chris Barber says to date, the scheme has saved 1600 bottles, delivering more than just financial savings.
"On average, our bottles cost about $1.90 each, and our labels cost $0.70 each," he says.
"In just over a year, we have saved our customers more than $4,000 and cut the need for an additional 133 cardboard boxes.
"With the support of the new grant, we can now double the impact and the savings. It will reduce our environmental footprint further and help our customers reduce theirs.
Barber says most of his customers want to reduce their waste, and this is part of a wider change.
"If you make your staff aware bottles can be reused, they treat them better, and then start thinking the same way with all the other things they use," he says.
In addition to the crates, Barber and Kay have also sourced a recyclable alternative to the 12ml tasting cups the company must use under Liquor Licensing laws, saving thousands of plastic cups from the landfill each year.
"After a big event, we see bins full of plastic tasting cups heading straight for the landfill, which horrifies us," says Barber.
"We've always brought home our cups to recycle locally to make sure they are recycled, but when new regulations came into play, where only plastics numbered one, two or five could be recycled we had to put our thinking caps on – as our cups were a number six.
"We've rolled our sleeves up and worked with another Kiwi company to develop an alternative that can be recycled here and around most of New Zealand.
"It's important for us to be leaders in our industry because sustainability sits at the heart of what we do," he says.
The scheme is currently available across the wider Wellington region, with Koakoa working on the logistics of taking it nationwide.
Did you know?
There are 6 ways you can catch up with The Shout NZ?
Our print magazine – March issue out now! Subscribe here.
Online, updated daily with its own completely unique content and breaking news.
Our weekly newsletter – free to your inbox! Subscribe here.
Our digital magazines – the latest issues are online now.
We are also on Facebook and Instagram!