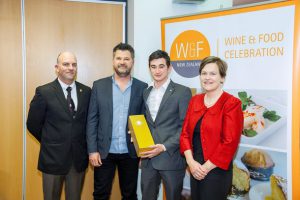 Young talent from the north and the deep south took top prizes in blind tastings, theory and practical assessments at this year's New Zealand Sommelier of the Year Awards held at the New Zealand School of Food and Wine in Auckland.
The overall winner was 26 year old Dion Wai who works full time at Baduzzi in Auckland's Wynyard Quarter. He wins return flights to Paris and a hosted trip at Champagne Louis Roederer in the Champagne region.
"We opened up this year's Sommelier of the Year Award to any age whereas previously it was for people aged over 30 years. The reason for the change is to acknowledge the growth of young talent in the New Zealand hospitality scene right now," says Celia Hay, chair of the New Zealand Sommeliers and Wine Professionals Association.
'The calibre of people entering under 30 years was extremely high. The competition included four women, which reflects the growing interest amongst women in pursuing careers in professional wine service.
At Baduzzi, Dion works under respected Auckland restaurateur Michael Dearth who also owns The Grove. Dion is currently finishing his degree in hospitality management at AUT and is also in the Court of Master Sommeliers certification programme.
'The Junior Sommelier of the Year, sponsored by Misha's Vineyard, was won by Richard King from the Hilton in Queenstown. Richard has been actively competing in competitions since 2014,' says Hay.
The annual competition is held under the direction of Master Sommelier Cameron Douglas and is a highlight of the New Zealand School of Food and Wine's annual W&F Wine and Food Celebration. The Awards were announced at a special dinner prepared by students of the New Zealand School of Food and Wine and featured the Northern Thai cuisine of Chef Lek of Saan Restaurant.
The W&F Celebration is now in its third year and attracts leading New Zealand wineries and international wine importers along with international wine experts and guest chefs presenting masterclasses. The next W&F Celebration will be held in September 2017.
The finalists in the Sommelier of the Year Competition are required to taste six wines which have their identities concealed, including international wines. They also sit a theory exam and the finalist perform practical wine service in front of four judges where they must open and pour a bottle of Louis Roederer Champagne, open wine under cork and answer a series of challenging questions during the practical service.
The Sommelier of the Year Competition is sponsord by Champagne Louis Roederer, Misha's Vineyard from Central Otago and the New Zealand School of Food & Wine.