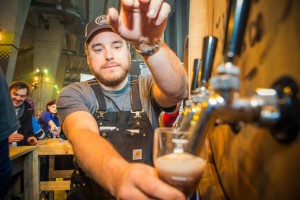 Beervana, New Zealand's annual craft beer festival held in Wellington, will be at full capacity in August, making it the biggest in the event's 15 year history.
From August 12 – 13 the concourse at Westpac Stadium will be full to the brim with 48 Kiwi breweries and two Australian breweries setting up shop, and approximately 10 more breweries represented with beers at shared bars.
Total participation is up more than 50 per cent from 2015. Forty percent of participating breweries are joining the golden mile for the first time, and one in five are less than two years old.
Beth Brash, event manager for Beervana, says the increase in breweries taking part in this year's event is the latest indicator of a booming local craft beer sector.
"Craft beer has ceased to be a niche product and has now hit the mainstream. Beervana is really important for small to mid-sized breweries as it enables them to showcase their beers on an even playing field with some of the bigger players.
"It's not just the brews on tap, it's the brewers too, meaning punters can chat with them about everything and anything to do with beer. It's a brilliant event for serious beer fans and those beer curious folk who simply enjoy a hoppy drop.
"This year we'll be serving up around 300 different beers from New Zealand and around the world, as well as a bar dedicated to our sister-city-in-beer, Portland, and bars in worship of sour beer and IPA. Plus there's seminars, free guided tours, the Black Rock NZ Hottest Home Brewer competition and the best beer matched bites you can wrap your chops around," she says.
Susan Mudie, Marketing Manager for Liquor King, says the company's sponsorship of Beervana in 2016 is indicative of Kiwis changing appetite for beer. "Over the last 12 months our craft beer sales value has increased by 141 per cent. The range of craft beer brands we offer has increased 30 percent year on year for the past two years, to 42 brands currently. Kiwis are going crazy for craft beer."