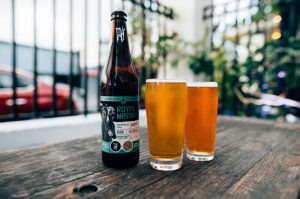 Black Dog Brewery is putting a hop in your step this spring with the announcement of their collaboration with Gypsy Brewer Lord Almighty to launch their latest experimental brew, a pungent Imperial IPA, Royal Mastiff.
Introducing Royal Mastiff, a beautifully balanced, easy-drinking Imperial IPA which has been carefully brewed in collaboration with Dan Lord of Lord Almighty Brewing, a local gypsy-craft beer operation based out of Wellington.
Being a gypsy brewing outfit, the craft beer company has no actual bricks and mortar brewery or commercial scale kit. Instead, Lord relies on the collaborative and innovative characteristics of craft breweries such as Black Dog to help create his bespoke beers. Previous beer offerings from Lord include an array of creative blends like his aged Rum oaked Ursus Imperial Stout, which took home the people's choice award at the SOBA Winter Ales Festival in 2016.
"Teaming up with Black Dog's latest experimental drop has been a hugely collaborative effort," said Lord. "It's a unique opportunity to gain insight into one of the countries most established and creative craft breweries, and it also enabled me to try out new recipes that challenge the status quo, resulting in the creation of this delicious hoppy IPA."
Recently, Wellington was named the best city to drink and brew beer in New Zealand by Lonely Planet. Black Dog Brewery is committed to creating exciting alternatives to the booming New Zealand craft scene. The success of the experimental range is a sign of the evolving and expanding taste buds of New Zealand craft beer drinkers with Kiwis actively seeking out out-of-the-ordinary flavours and brews.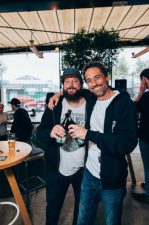 The brewery's Top Dog Adrian Klemp said, "Black Dog was founded to challenge the current craft beer market and create new and exciting collaborative brews that aim to tantalize the taste buds of many. Royal Mastiff has passion fruit and bitter orange on the palate and a hint of apricot on the nose. It is low in bitterness, making it one of the most session-able Imperial IPA's around".
"We're excited to work with a gypsy-brewer like Dan who is passionate and committed to creating complex flavours in his beers – he is also skilled at higher ABV styles whilst retaining drinkability".
The new range will be available nationwide from early November at Black Dog's quirky Blair Street kennel, local liquor and supermarket stores and on tap in key accounts across the country.
The exciting new release makes up half of Black Dog's latest experimental range, consisting of two limited-edition brews that are only available for three months. The second brew being an award winning, pedigree worthy Black IPA, Pango. Beer lovers will need to be quick to their local to grab these two exceptional brews, as there are only around 5,000 of each beer being bottled and sold in store.