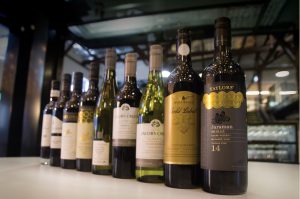 The World Association of Wine Writers and Journalists (WAWWJ) has released its global ranking of the world's most awarded wineries and named family-owned Taylors Wines as the most awarded winery in the world for 2017 in a ranking of more than 50,000 producers.
In its report, the World Ranking of Wines & Spirits (WRW&S) has named Taylors Wines along with Wolf Blass, Jacob's Creek and McGuigan in the Top 20 most awarded wineries globally.
Now in its 21st year, the 2017 WRW&S report was established to develop an internationally recognised ranking system for global wine competitions. It is the only ranking system of its kind in the world to evaluate the results from this quantity of international wine shows.
International President of the WAWWJ Leonardo Castellani noted the performance of Australian wineries in this year's ranking.
"The broader Australian presence is significant this year, with 21 Australian wines on the list of the top 100 wines in the world and a ranking of 5th on the list of most awarded countries," he says. "Four Australian wineries are listed in the Top 20 most awarded wineries category, with Taylors Wines, Wolf Blass, Jacob's Creek and McGuigan ranking 1st, 4th, 12th and 13th respectively."
Out of more than 700,000 wines evaluated, 12 of Taylors Wines appear in the top 100 list for 'Wines of the Year', including the number one most awarded wine with its 2014 Jaraman Shiraz.
Mitchell Taylor, third-generation Taylor family member and Managing Director of Taylors Wines is honoured by the accomplishment.
"We are incredibly proud to be the world's most awarded winery with the world's most awarded wine.  Since the beginning we've sought to make wines that can take on the best in the world," he says. "We see wine competitions as an important way to benchmark ourselves.  Australia produces some of the world's most incredible wines and recent success in global competitions prove this. It's an exciting result for our family, our winemaking team, the Clare Valley wine region and Australian wine as an industry."
Founded in 1996, the WAWWJ consists of 13,500 wine journalists, bloggers and judges representing 80 different countries across the globe. The prestigious industry body combines the results of the most recognised international wine shows to rank the world's most successful wineries.
The 2017 World Ranking of Wines and Spirits Report is available at http://www.wawwj.com/2017/WRWS_Report_2017_Final.pdf