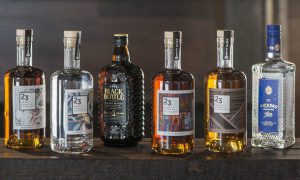 Beverage company Bickford's Australia has opened a distillery and visitor centre in Renmark, in the heart of South Australia's Riverland. The Distillery will produce craft spirits under its own label as well as well-known Australian label Black Bottle Brandy, Australia's second biggest brandy brand.
Bickford's, established in South Australia in 1874 and historically known for its premium cordials and syrups, has grown strongly into the alcoholic beverage market in recent years. It purchased VOK Beverages in 2002 and has steadily bought up a portfolio of well-known products. Its portfolio now includes Beresford Wines, Real McCoy, Vickers Gin, Beenleigh Rum, Andrew Garrett, Three Oaks Cider and Galway Pipe.
Vickers Gin will also be produced at the new Renmark distillery, which is about 260km northeast of the South Australian capital Adelaide.
Bickford's Group Owner and Managing Director Angelo Kotses said the distillery was a chance for the company to become a player in Australia's booming craft spirits industry and leverage export markets.
Did you know?
The Riverland is Australia's largest wine grape growing region, producing 517,000 tonnes or 29 per cent of the nation's crush in 2016. Bickford's bought the Renmark site from Accolade Wines in 2014 after receiving more than $2 million in Riverland Sustainable Futures Funding towards the establishment of a spirit distillery in the region.