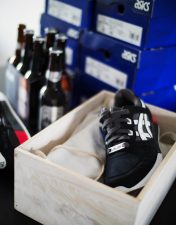 Japanese powerhouses Asahi Super Dry and ASICS Tiger have collaborated to create a limited-edition, custom sneaker collection to mark Asahi Super Dry's 30th anniversary.
Set for release in November, only 30 pairs of sneakers have been produced – mirroring the 30 years of Asahi Super Dry.
Brought to life on Asics Gel Lyte III sneakers, the collection features five designs which represent and celebrate the Asahi brand, history and lifestyle.
Four designs pay homage to Asahi's signature range, referencing the Silver Can and the Black Asahi Super Dry Box in a dark pallet of greys and blacks with eye-catching red accents. The fifth design, Minka, represents traditional Japanese housing and features a lighter pallet of tan and taupe with contrasting black laces.
Each design is fitted with custom features including laser etched Asahi logo lace lock sets, interchangeable lace sets, dust bags and limited-edition packaging.
Jade Clark, Marketing Manager for Asahi NZ, says the collection is the perfect marriage of these iconic Japanese brands. "They've created something that captures both of their unique aesthetics," she says. "The collaboration is an amazing celebration and exhibition of Asahi Super Dry's 30 standout years in business."
Asahi and ASICS Tiger share a mutual heritage and synergy that has lent itself to the creative process and development of the sneaker collection. Both brands observe the Japanese practice of "kaizen" or continuous improvement in their business approach, proving themselves to be innovators, perfectionists and household names in their respective fields.
The Asahi x ASICS sneaker collection is exclusive to New Zealand, giving local sneakerheads, fashion enthusiasts and Asahi-drinkers the chance to add a pair of the limited-edition sneakers to their collection following the launch event on November 10th.
The shoes are not on general sale, but there is one five-piece collection comprising every style available to bid for until 24th November via Trade Me. All proceeds will go to New Zealand Red Cross. To bid, head to http://trade.me/AsahiAsicsCollab