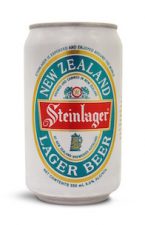 This year marks the 110th anniversary of New Zealand's inaugural rugby tour of the UK, in which the team, affectionately known as the Originals, won 34 out 35 games on tour and put New Zealand on the map.
To commemorate the Originals' landmark tour, Steinlager is proud to announce the triumphant return of its limited edition white can – a lucky charm in 1987 and a nostalgic symbol of hope in 2011. Featuring four limited edition designs, each can will tell a special tale from the remarkable Originals tour that earned the All Blacks name 110 years ago.
Ben Wheeler from Steinlager says: "Just as our emerging nation believed in them back then, New Zealand still believes now. We're really excited to have the white can back, and we hope New Zealanders will enjoy it too."
Last time the white can was released in 2011, 4.5 million white cans were sold, so there will be some very excited consumers.
Steinlager Classic white cans are available from 3 August in 12 packs, RRP $24.99.