Each week we will be featuring a local bar, pub or club to help boost the Kiwi hospitality industry and encourage customers to get out and explore (when we can!).
This week, Kerry Burgess and Gian Jesus share an insight into their Wellington cocktail bar, Yakisoda.
How would you describe Yakisoda and its atmosphere?
Yakisoda is small, friendly cocktail bar in central Wellington. We take inspiration from the Nikkei culture when it comes to our drinks and food offering. Nikkei is a culture which has it roots in Latin America, forged during a time of significant Japanese immigration to the region.
At Yakisoda we're trying to create the vibe of a neighbourhood bar, in the city. For our drinks, as much as we can, we make them fresh, delicious and approachable.
With the idea being to remove the status surrounding cocktails as a special occasion thing in favour of a drink to be enjoyed as a quiet one after work or while catching up with friends.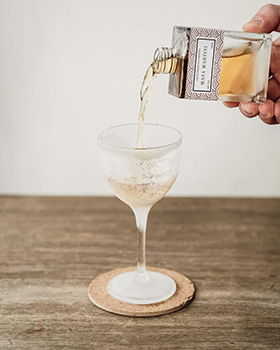 How do you ensure that Yakisoda stands out from the crowd?
Our concept is based around Nikkei, a unique and under represented culture and cuisine in Aotearoa. This combined with our modern approach to mixing drinks, and our complete commitment to using proper technique and friendly service to ensure the guest has the best possible experience is what helps us stand out.

What is your signature drink?
Masa Martini – one of the drinks on our list that will likely never leave. It's served as a lighter, aperitif style gin martini, with the savoury undertones from the sherry and corn tea balanced by the subtle sweetness and depth of flavour owing to the mirin and dry vermouth. This drink is the result of our ongoing collaboration with Amy Alexander over at JMR Cocktail & Co.

What are you most looking forward to about the hospitality industry in 2021?
Like us, many much more clever people out there put their heads to work during the lock down of 2020, and many of the ideas developed in that time are yet to see the light. So we're looking forward to the fruition of all that applied creativity in whatever form it takes.

What are your top tips for being a great bartender?
Be nice. Seems simple, but service always comes first. Anyone can be taught to make a delicious drink, the technique isn't that hard. But maintaining kindness and empathy throughout a busy service while still getting everyone their drinks and food in a timely manner is much more challenging.
Did you know?
There are 6 ways you can catch up with The Shout NZ?
Our print magazine – February issue out now! Subscribe here.
Online, updated daily with its own completely unique content and breaking news.
Our weekly newsletter – free to your inbox! Subscribe here.
Our digital magazines – the latest issues are online now.
We are also on Facebook and Instagram!