Each week will be featuring a local bar, pub or club to help boost the Kiwi hospitality industry and encourage customers to get out and explore!
This week, Katia Brown, Venue Manager at Concrete Bar in Lambton Quay, gives us an insight into Wellington's hidden gem…
How has business been going since New Zealand moved to Alert Level 1?
It has been really good! Our traffic really relies on local businesses in the area, so it's great to see people coming back into the CBD and our regulars making their way back to our bar. While it's not back to complete normal just yet, it's definitely picking up and it's great to see!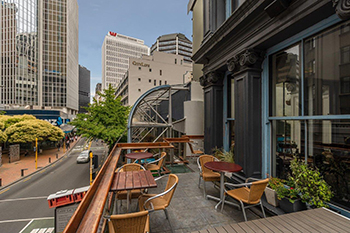 What have you been doing to encourage customers to come back to your local?
We are currently offering The Happiest Hour, where customers receive 24% off their bill when they pay via the NZVC App, which is huge! People are jumping on board and loving that their after-work snacks and drinks come at a massive discount. With the Welly weather getting colder and colder, we are also offering a range of warm cocktails

How would you describe the atmosphere of your venue?
Relaxed. We really aim for a chill vibe throughout the venue and with some smooth tunes in the background and a delicious cocktail in hand, no one who comes in stressed stays that way for very long!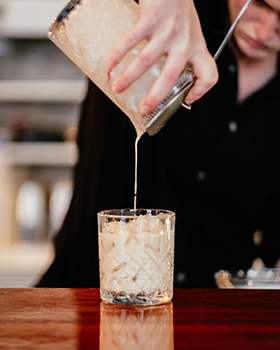 What is your signature drink?
It's a mix! People love our Bramble cocktail but we make a DAMN good Classic Martini.
Why do you think your local stands out from the crowd?
Being in the CBD, Concrete offers an escape from the hustle and bustle of the day-to-day. We find that we attract a super-diverse clientele, from students to local office workers, to the old boys who have been coming here for the last 25 years. It's a real melting pot for Wellington locals.
What are your three top tips for being a great bartender?
Keep your eyes open! Does that beer need topping up? Has that table been wiped? It's essential that bartenders keep their eyes open and have a high attention for details.

2. Accepting that you don't know everything. Bartenders aren't expected to have an encyclopaedic knowledge of every cocktail, so not being afraid to say you don't know a particular drink but are willing to work with the customer to make them something special is a great skill!

3. Bartending can be tough. Long hours, high stress environments; it's essential to stay resilient and ready to tackle any challenge that may be thrown at you.
To nominate a local to be featured, email ccowan@intermedianz.co.nz or send us a message on social media @theshoutnz!
Did you know?
There are 6 ways you can catch up with The Shout NZ?
Our print magazine – back very soon! Subscribe here.
Online, updated daily with its own completely unique content and breaking news.
Our weekly newsletter – free to your inbox! Subscribe here.
Our digital magazines – the latest issues are online now, here and here.
We are also on Facebook and Instagram!