The medal winners of the third annual NZ Spirits Awards have been announced, with 10 Double Gold Medals handed out to local and international distilleries.
The awards were judged last week by 20 industry experts, including The Shout NZ contributors Cameron Douglas MS and Tash McGill, with 344 spirits tasted over three days.
Sue James, Chairperson of Distilled Spirits Aotearoa, says there has been a 100% increase in New Zealand entries into the NZ Spirits Awards since its inaugural year in 2019.
"We know that we have lost at least three New Zealand distilling businesses to COVID but compared to the rest of the world, we have been relatively unscathed," she says.
"This doesn't mean that the impacts of the last 18 months have not left deep scars.
"Globally distillers have had to make huge sacrifices, and they would not still be in business if they did not carry a great passion for the industry and the product they are crafting.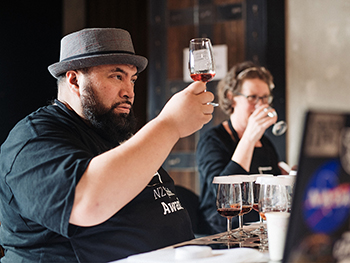 "We can celebrate the fact that even through this hardship there is a continuing desire to make high quality spirits, and by entering these awards show them off to New Zealand and the world."
Of the 344 entries into the NZ Spirits Awards, gin was by far the biggest category, with 145 entries and 131 medals awarded.
This was followed by whisky with 70 entries and 61 medals awarded.
The other five categories included vodka, liqueurs, brandies, rum and botanical & other spirits.
In total, 313 medals were awarded to local and international spirits, with Double Gold Medals going to the following distilleries.
Vodka:
Reefton Distilling Co. – Wild Rain Vodka
Tito's – Tito's Handmade Vodka

Gin:
Barrister – Blue Gin
Hastings Distillers – East Block 200
Pink & White Geothermal Gin – White (London Dry)

Rum:
Havana Club – Havana Club 7YO
Lunatic & Lover – Barrel Rested Botanical Rum
Mount Gay – Mount Gay XO

Whisky:
Bruichladdich – Bruichladdich Port Charlotte 10
Talisker – Talisker 10 Year Old
For the full list of medal winners, click here.
The NZ Spirits Awards trophy winners will be announced at a gala dinner in Auckland on June 25.
Two trophies will be being presented in each of the seven categories – Trophy for Best New Zealand in Category and Trophy for Best Overall in Category.
The winner of the New Zealand Innovation Award, Viniquip New Zealand Design Packaging Award and Long Story Short New Zealand Emerging Product Award will also be announced.
Full coverage of the trophy presentation will be in the July issue of The Shout NZ.
Did you know?
There are 6 ways you can catch up with The Shout NZ?
Our print magazine – May issue out now! Subscribe here.
Online, updated daily with its own completely unique content and breaking news.
Our weekly newsletter – free to your inbox! Subscribe here.
Our digital magazines – the latest issues are online now.
We are also on Facebook and Instagram!