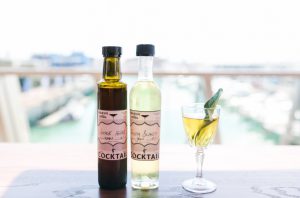 The Parasol & Swing Company, the eagerly anticipated new cocktail bar in the heart of the Viaduct, opened its doors last night.
Situated over two levels between Soul bar and Dr Rudi's, with a rooftop bar overlooking Viaduct basin, it features a host of Auckland's best hospo experts coming together to create something special.
The team from the 2017 Lewisham Awards 'best bar', Mea Culpa, have created the drinks menu with current staff. Chef Mark Southon of O'Connell Street Bistro has created the menu inspired by California and Singapore's new wave of shared dining fusion eateries with burgers and waffles. The award winning design company, Paul Izzard Design have created the space.
The concept behind the bar is a tribute to the industry itself with a history and story that goes back to the mid 19th century, told through a beautiful cocktail menu, designed by the Wonder Group and uniquely illustrated by a renowned Montreal based tattoo artist Angus Byers.
The bar team will include 2017 Rhumbellion Cocktail Competition Global Champion Jason Rosen, 2013 Beam Bar Legend National Champion Adam Neal, former UK Gin Ambassador Sean Cavanagh, and a variety of local and international talent eager to make their mark in Auckland.