Pacific Coast Beverages, a startup microbrewery, is set to begin construction of its production facility on the coast of the Mangawhai Harbour.
The site will boast a vineyard, distillery and brewery to be opened later this year, with a courtyard bistro overlooking the vines to open in 2023.
"Our parcel of land has a free-draining sandy sub-soil and harvests plenty of sun with a north-west facing aspect", says Pacific Coast Beverages founder and Mangawhai local, Adam Booth.
Pacific Coast's packaged beer and spirits will launch late 2022, operations will be headed by brewing expert & beer judge Sam Williamson, who has 20 years' experience working in various New Zealand breweries.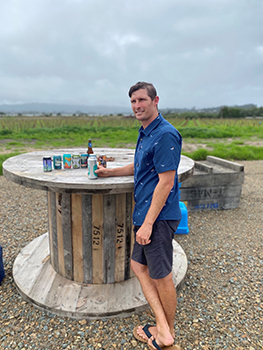 "The last year has seen a huge revolution in brewing knowledge, with the advancement of analytical technology and the evolution of beer styles", says Williamson.
"Brewers are now challenging their own preconceptions on the correct way to brew, and making hugely accessible styles with techniques that bat against tradition. I have intertwined my experience, theory and research to develop some tasty, contemporary recipes."
The breweries' passion and experimentation of brewing will be used to spice up the generally traditional spirits market using an American-designed still.
And with a vineyard in its early stages, wine is expected to be produced in 2024.
Did you know?
There are 6 ways you can catch up with The Shout NZ?
Our print magazine – March issue out now! Subscribe here.
Online, updated daily with its own unique content and breaking news.
Our weekly newsletter – free to your inbox! Subscribe here.
Our digital magazines – the latest issues are online now.
We are also on Facebook and Instagram!