Rhino is a Sales CRM (Customer Relationship Management tool) designed to simplify and improve your sales process. It was created by sales people for sales people so it's very logical and easy to use.
Sales teams representing beer, wine and spirits alike are all enjoying the benefits of a simple industry solution that has all of their customer information, contacts, call notes and sales history in the one place.
Rhino allows teams to plan and record their sales calls as well as their distribution points amongst other things, giving management a comprehensive understanding of exactly where business is coming from. Promotions, discounts, agreements and documents can all be loaded into Rhino for your sales team to access with ease while working on the road.
Forte Information Solutions pride themselves on partnering with their customers to tailor a solution that improves efficiencies. Rhino allows users to set sales objectives and identify further sales opportunities within each customer account. Users can also attach photos to the customer call card, track assets and record survey data.
Rhino is a modular system, so you can use as much or as little as the business actually needs – keeping it relevant to your team's requirements!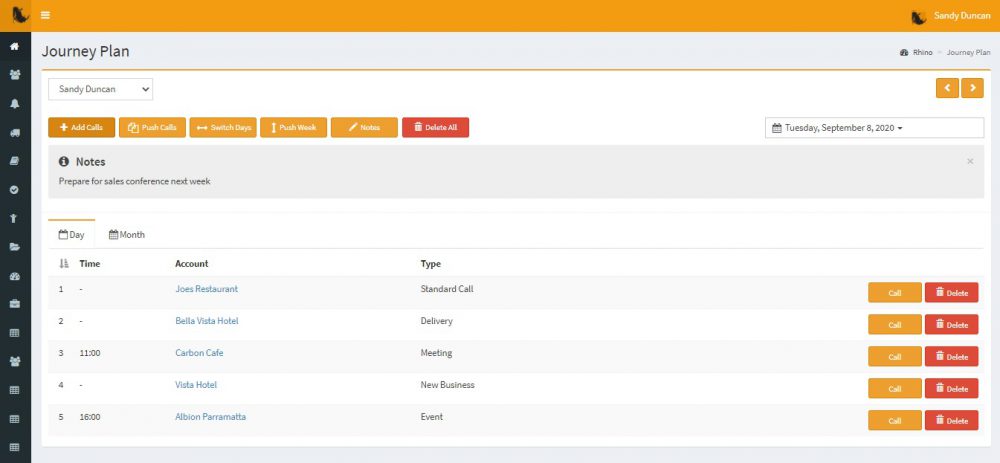 Navigating through Covid can be challenging, Rhino allows users to keep track of their customers and record their sales calls, whether in person or over the phone from home. Rhino can be used on any device with an internet connection and a web browser – phones, tablets, laptops!
Management have full access to all of the data and the ability to run a number of reports (including exports) on the backend. Forte can help you customise the reports to show you exactly what you want to see! And it's more affordable than you may think with many SME's with a team of 5+ reps already using Rhino!
If a comprehensive, affordable, tailored, easy to use sales CRM is on your radar contact us today!
Forte Information Solutions Pty Ltd
Email: info@forteis.com.au
Phone: +61 438 298 333 (Laura)
Website: www.forteis.com.au