EuroVintage named wine company of the year
09 October, 2017 by
New Zealand's largest and most prestigious international wine competition has named EuroVintage 2017 Wine Company of the Year.
Chief Executive Nick Hern accepted the Trophy on behalf of EuroVintage at the New Zealand International Wine Show's trophy dinner on Saturday night.
The national distribution business had a stellar show collecting an impressive three trophies, thirty-one gold, thirty-nine silver and sixty-four bronze medals.
Accepting the trophy, Nick Hern paid tribute to Raymond Chan, this year's Legend of New Zealand Wine and recipient of the Sir George Fistonich Medal.
He went on to acknowledge the loyalty and support of the brand owners which make up EuroVintage's award-winning portfolio.  Hern dedicated the trophy to his staff and the vital role teamwork played in driving the Company's distribution business.
Highlights for the Company include the Trophy for Champion Pinot Gris for Dashwood 2017, the second trophy this incredible value-for-money offering has collected in recent weeks; Trophy for Champion Champagne & Methode Traditionelle for Louis Roederer Brut Vintage 2009; and Trophy for Champion Fortified Wine for Lustau San Emilio Pedro Ximenez.
EuroVintage last won the Wine Company of the Year trophy in 2014.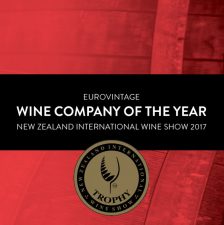 .