Expert advice from Cameron Douglas MS.
Méthode Traditionelle, Prosecco, Cava, Sekt, carbonated, zero-alcohol, low-alcohol… The world of sparkling wine is expanding and changing rapidly.
Transport costs alone have meant price increases, which have inevitably have been passed onto the consumer.
This has also meant consumers are looking more specifically at different options and value.
So what is "good" and what is "great" depends on budget and where you shop, how close to classic wine, such as Champagne, you are looking for and how important brand is versus quality.

The on-premise is grappling with what changes to make to their sparkling wine and by-the-glass programmes, especially over the festive season.

Keeping the price of a glass of Champagne down is tough with the trade-off being margin – less that is – for those that want to keep selling at the same price.

For others, it means either increasing the price to keep margin, which lessens access to those on a budget, or look to different non-Champagne options – especially by the glass.

One of the obvious answers is to find excellent Méthode Traditionelle wines that are just as good (and sometimes better) than Champagne and run with those.

No. 1 Family Estate, Hunter's, Quartz Reef, Palliser Estate, Saint Clair, De la Terre, Esses and Vilaura are all great examples of locally-made sparkling wines that excel in quality and offer great pricing.

Imported sparkling wines are on the increase as well, especially Prosecco.

Most Prosecco is bulk-fermented, with the second ferment also in tank. This technique allows for consistency and typicity of style to be repeated, without vintage playing too bigger role.

Some Prosecco wines are tied to specific appellations in northern Italy, such as Valdobbiadene and Conegliano. These wines are often excellent and should be on your wine list.

There is also Prosecco made outside Italy but I personally deem it not very good at all and I cannot recommend any at this time.

Other sparkling wines can be carbonated or be 0% alcohol – this is a "buyer beware" category.

These wines are mostly aimed at the cheaper end of the market and don't really make any money for the on-premise, but do allow some options for those on a super-tight budget.

In regards to zero-alcohol wine, it is a category that has gained popularity in recent years – market share appears to be levelling out, though, but I don't think it is going away anytime soon.

It suits people who want to have a drink and drive with zero-alcohol in the bloodstream, it is a great social-drinking alternative and often meets budget. Don't knock it till you try.

When storing sparkling wine, it is the same for any other wine – in a cool and in a UV-free environment.

The temperature for service can begin at 4 degrees Celsius and be a little daring and serve it in a wine glass instead of a flute, or a saucer (if you have any of those left in the glass cabinet) and let the wine come to around 8 -10 degrees Celsius for best flavours and texture.

Once opened and if you need to store the bottle for say, 24 hours, then either put a proper pressure cap on or invest in a sparkling wine Coravin system.

The bottom line when it comes to serving sparkling wine is this: don't buy on pretty labels and don't compromise on quality.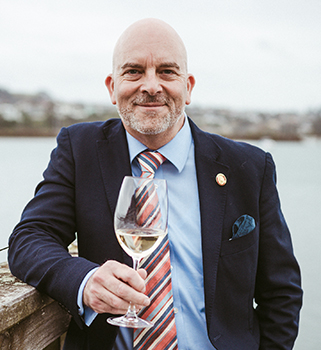 Cameron Douglas is New Zealand's first and only Master Sommelier. An experienced wine commentator, judge, reviewer, presenter and consultant, he is the Beverage Director & Group Sommelier for Rodd & Gunn and is the Patron of the New Zealand Sommeliers and Wine Professionals Association. Formerly academically in charge of the Wine & Beverage Programme at AUT in Auckland, Douglas has also consulted to a variety of establishments, taking care of their wine lists, wine and food pairings, and staff training matters, and he currently serves on the Board of Directors for the Court of Master Sommeliers Americas.
How to catch up with The Shout NZ…
Online, updated daily with its own unique content and breaking news.
Our weekly newsletter – free to your inbox! Subscribe here.
We are also on Facebook and Instagram!