NZ wineries tip Albariño as the next varietal to watch
06 April, 2017 by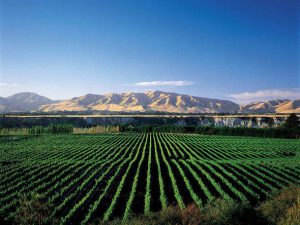 By James Wells
Two of New Zealand's most respected wineries – Villa Maria and Babich – have named Albariño as one the next big white varietals following the blazing trail set by Sauvignon Blanc.
Villa Maria chief operating officer, Richard Thomas, has confirmed he will be introducing Albariño to Australia later this year after successfully selling it into the UK market as well as in the New Zealand domestic market.
"We are continuously increasing our plantings of Albariño as we believe it has a really interesting future as a major white varietal from New Zealand. We are still only in the early stages, but each year we sell everything we make so we see great growth potential," Thomas told TheShout.
"The question for us will be which channel in Australia will be interested, and which partners will want to take it. We are still yet to have these discussions, but it is a great opportunity for the right buyers.
"Albariño is a Spanish grape that has really good fruit characteristics. It is for people who have enjoyed Sauvignon Blanc but perhaps are wanting something different. They may not be comfortable or ready to move on to Chardonnay, but they still want a wine with a distinctive flavour. I look forward to bringing it to Australia.
"Albariño has delivered some really good growth over the last two to three years and we have built it under two brands – our Villa Maria Cellar Selection and our Left Field brand. It has been particularly successful in the UK, maybe because there is a strong understanding of European Albariño. It's been a bit slower in the New Zealand market in terms of volumes, but it is getting a lot of good traction from journalists and strong reviews from wine writers.
"I personally feel that the New Zealand climate can produce a sensational Albariño. We grow ours in Gisborne primarily and Hawke's Bay – two regions whose climate offers the ability to ripen in the heat, which is key," Thomas said.
According to Babch Wines general manager, David Babich, the 2016 vintage of his Albariño is one of his favourite wines.
"We feel as though we have nailed the 2016 vintage. You know you have a wine right, when you are drinking a lot of it. We feel that we are more likely to get on premise traction as it is hard to get wide mass distribution.
"This vintage has given us a lot more confidence with Albariño, My feeling is it is going to be niche, but then again we thought Sauvignon Blanc was going to be niche too, you just don't know. Sauvignon Blanc was a bolter, and that doesn't exist in the wine world. Something coming from number 18 in the varietal ranking of white wine varietals to the top three over the course of 15 years. The bigger question is whether Albariño as a variety has the legs to be not-niche – because it is a Spanish grape and it is still niche."
First published at www.theshout.com.au 
.