New Zealand's first 0% alcohol cider made by New Zealand's first Zero Carbon cidery has hit the shelves marking a new milestone for Hawke's Bay cidermakers Zeffer Cider Co.
The cidermakers, who are known for both their craft and innovation, this month launch their Zeffer 0%* Crisp Apple Cider in conjunction with being credited as New Zealand's first Zero Carbon cidery.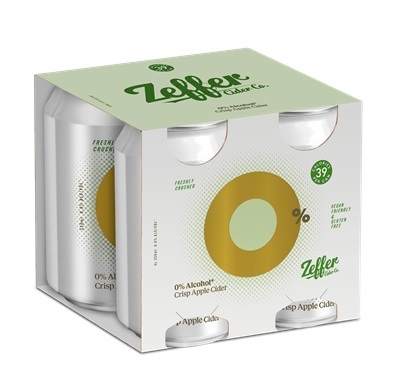 Zeffer first tested the waters with a low alcohol cider in 2015 which proved popular despite being well ahead of its time. Fast forward five years, and the demand for low and zero alcohol options has grown substantially prompting Zeffer Cider Co to release a new classic cider with zero alcohol.
Zeffer's 0%* Crisp Apple Cider is crafted from local Hawke's Bay apples and fermented before the alcohol is carefully removed using highly advanced spinning cone technology. This removes the alcohol while having minimal impact on the flavour of the cider which is off-dry, lightly sparkling and full of flavour.
Jody Scott, Zeffer's head cidermaker, initially contemplated whether Kiwis would make assumptions about a zero-alcohol cider.
"We wondered whether people would assume that a cider with the alcohol removed was simply a sparkling apple juice and this is not the case at all," he said.
"It tastes just like a crisp apple cider and of course we've made it in the same way we would any of our ciders using our signature cidermaking style of using local apples and crafting from freshly crushed juice, not concentrate."
Jody believes the bright fresh apple taste and fermented character from the cider will make it a popular choice for those seeking a refreshing, low sugar, and grown-up non-alcoholic beverage this summer.
"We haven't compromised on taste and this is a great option for those looking to moderate their alcohol consumption or avoid alcohol all together which is often the case over the festive season," says Jody.
The launch of Zeffer's 0%* Crisp Apple Cider also coincides with the announcement that Zeffer is New Zealand's first Zero Carbon cidery and has achieved Zero Carbon Business Operation certification with Ekos for the 2020 financial year.
"We continue to make sustainability a priority within our business and decision-making and focus on the areas where we can have the biggest impact," said Josh Townsend, Zeffer CEO. "It's great to be celebrating zero this month with both our zero-alcohol cider and our Zero Carbon business operations certification".
Zeffer 0%* Crisp Apple Cider is available in a 4-pack and is vegan friendly, gluten free and contains just 39 calories per can. It is initially available in most New World, PAK 'n SAVE and Four Square supermarkets throughout New Zealand. RRP $12.99.
* less than 0.05% alc/vol from the natural fermentation process.
For more information please contact sarah@zeffer.co.nz
www.zeffer.co.nz